My roots lie in the agricultural grounds, and many of my older relatives still live in the countryside. Every time we visit there we have cucumbers, gourgettes, tomatoes or other vegetables in season to take with us. In the early summer rhubarb stalks are collected and used traditionally in sweet pies. I decided to use an old, good and very simple recipe to make cupcakes.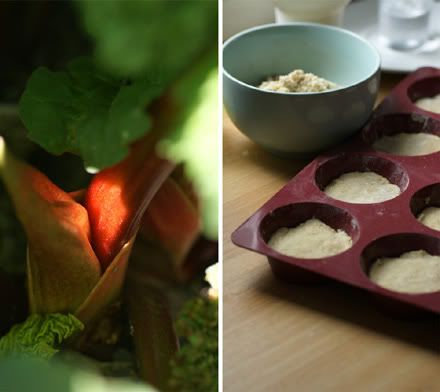 Rhubarb cupcakes
(makes about 12)
For the crumb dough
4 dl Flour (I used whole wheat)
1 1/2 dl Sugar
1 tsp Baking powder
1 tsp Baking soda
2 tsp Vanilla sugar
1 dl mild flavored oil
For the base dough
2/3 of the basic dough (about 3 1/2 dl)
1 dl soy milk
1 tbs soy flour
1 dl unflavored soy yogurt
For the filling
1/2 liters fresh rhubarb stalks chopped in cubes
2 dl unflavored soy yogurt
1 dl sugar
1 tbsp corn flour
Combine the dry ingredients of the basic dough and mix them well. Add oil and blend with a large fork to get a crumbly mixture.
Measure the amount needed for the base dough and set rest of the dough aside.
Next, make the base dough by combining soy milk, flour and yogurt with the crumbly mixture. Mix quickly until smooth. Divide the dough into silicon, metal or paper muffin molds and using your fingertips pat it evenly to the bottom. Make the filling by mixing all the ingredients, fill in the molds with the rhubarb mixture and sprinkle the rest of the crumble dough on the top.
Bake in 175 degrees Celsius until golden and crisp. For the frosting I used equal amounts of soy butter and caster sugar, whipped them into a foam and dressed the cooled cupcakes. Soy cream cheese is a good add to the frosting, making the color lighter and giving a nice taste.