The guest for the best vegan burgers led me and my
companion
to surrounding towns and countries, tasting now deceased
Veganissimo
's burgers and feasting in Parisian
La Victoire Suprême du Cœur
's table.
Vegemesta
is located nearby and offers excellent burgers. The simply delicious Vegan Schnitzel is warmly recommended.
However, I graved for something more sophisticated. A magazine cover sparked the idea, as well as the desire to improve Veganissimo's somewhat unsuccessful - far too robust and unevenly cut - rootsticks. So, vegan burgers for finer dining, suitable for settings with white tablecloths and silver cutlery. Though it's not forbidden to eat these without fork and knife.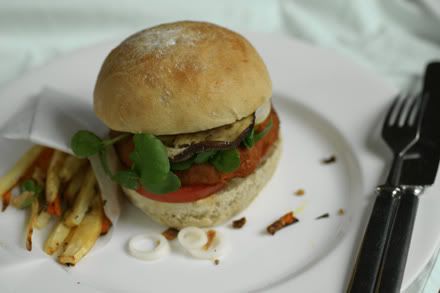 Gourmet burgers
Seitan stakes
(adapted from
Chocochili
)
2 1/2 dl Wheat gluten flour
1 1/4 dl Graham flour
1 tl Smoked pepper powder seasoning
2 tl Soy sauce
1 1/4 - 1 1/2 dl Water
Marinade
200g Tomato puree
App. 2 cm long piece of fresh ginger
2-3 Cloves of garlic
1 dl Soy sauce
About 1/2 dl oil
Juice of 1 lime
Smoked pepper powder seasoning and black pepper according to taste
Boiling
1- 1 1/2 l Water
1-2 Vegetable broth cubes
Some soy sauce and red balsamic vinegar
Mix gluten flour, graham flour and smoked pepper powder thoroughly. Add soy sauce and water, blend quickly until smooth and firm. Roll the dough into a bar with app. 8 cm diameter and cut about centimeter thick slices. For smaller cocktail burgers, make slices with 4 cm diameter.
Boil the water, add vegetable broth cubes, soy sauce and balsamic. Add the seitan slices and boil them for half an hour. Make the marinade while the slices cook. Peel the ginger and cloves of garlic, chop them fine and mix with other ingredients. Season according to taste. Let the seitan slices cool for a minute, pat them dry and let marinade overnight.
Bread rolls
4 large and several small ones or 5 or 6 large
(modified from Glorian ruoka&viini- magazine 4/2009)
Starter
3 dl water
25 g fresh yeast
2 tbsp sugar
1 1/2 tsp salt
3 dl wheat flour
Dough
Dribble of water
5-7 dl wheat flour
1 dl wheat bran
Combine the room temperature water, yeast, sugar and salt. Whisk to mix, add some flour and whisk smooth. Add rest of the flour and beat smooth. Cover with cloth or plastic and let rest at least half an hour or until bubbling strongly.
When ready, start adding flour and some water, then knead the flours in little by little until the dough is smooth and firm. Add wheat bran if you wish.
Roll the dough onto floured surface, knead it smooth and divide into suitable pieces. Roll them round and firm. Consider the size of your stakes when making bread rolls. Cover with cloth and let rise for at least an hour. Bake in 200 degrees celsius about 20 minutes or until crisp and golden.
Root vegetable sticks
Couple of carrots
1 Parsnip
Half of a medium root celery
Olive oil
salt, freshly ground black pepper and fresh thyme to taste
Peel the root vegetables and cut them about 10 cm long thin sticks. Spread them around an oven plate covered with baking sheet and sprinkle with olive oil. Mix to cover with oil all around, season with salt, pepper and thyme. Bake in 200 degrees celsius until soft and starting to darken from the ends. Turn around few times while baking. Serve from a pocket folded from baking sheet, decorate with few branches of thyme.
Assembling the burgers*
Big tomatoes sliced thinly
Aubergine slices, degorged, rinsed and lightly fried
Water crass
pureed tomato or excellent quality ketchup
Mustard-cucumber salad
Fry the seitan stakes in frying pan or in a grill. Keep them warm in the oven, grill or wrapped up in foil. Assemble the burgers in any order you like. Enjoy with cold drink and root vegetable sticks. The cocktail size burgers are great in parties or in a buffet.
*This is only one set of ingredients we found delicious, to variate use vegetables in season or add your favourite flavours.