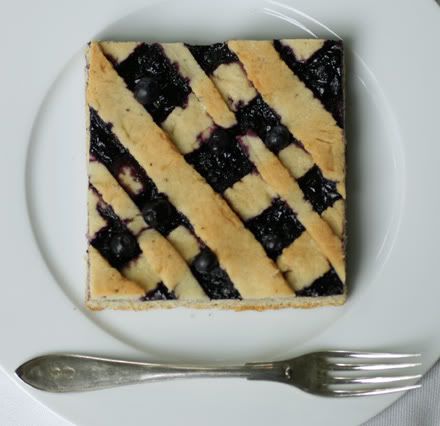 The season for blueberries is already off, but in case you made jam or deep froze any you might enjoy this pie now when leaves are flushed with dark gold and bleeding deep crimson, summer and the green forests bearing berries soon just a fading memory.
Linzer torte with blueberries
Blueberry jam
1 liter blueberries
1/2 dl water
330 g Jamming- or marmalade sugar
(2 tbsp corn flour)
Crust
200 g vegan butter
1 1/2 dl sugar
Some 2 dl unflavoured soy yogurt and about 1 dl water
1/2 tsp ground cloves
1 tsp ground cinnamon
200 g almond or chestnut flour*
Some 2 dl wheat flour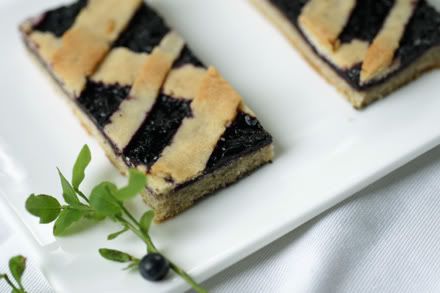 Make the blueberry jam first. Measure all ingredients to a large kettle and let boil for about 10 minutes, occasionally mixing. Let cool for 5 minutes, then pour into glass jars or plastic containers. Let set in the fridge preferably overnight. To stiffen the jam add 2 tbsp corn flour.
Cover a triangular cake mold (app. 25cmx25cm) with baking sheet. Whisk butter and sugar into a light foam, add soy yogurt gradually and still whisking. In a separate bowl combine the dry ingredients and mix them with the foam quickly trying not to knead the dough. If the dough seems too dry, add water or soy milk. Pat 2/3 of the mixture into to the bottom and edges of the cake mold.
Flour a working surface generously and roll the leftover dough into a thin plate. Cut it into 2 cm wide stripes with a sharp knife or pastry wheel. When this is done, spread blueberry jam on the crust. Do not overfill the tart, just enough to cover the bottom entirely and fill it up a little. Then arrange the slices in a grid form on top of the pie.
Bake in 175 degrees Celsius from 40 to 45 minutes or until dough is golden and crisp. Let cool and cut into squares or rectangles, sprinkle with casters sugar or add blueberries on top before serving.
*I find that self ground, fresh flour is best, as the ready ground packaged nut flours are usually bland in taste.
When I was a kid I loved Fazer's small jam tarts with blueberry, raspberry or mixed jam filling. My father used to buy them, and we often took them with us when traveling. I tried to interpreter the idea of those tarts in this one, and I was glad to taste it worked out well.
Excuse me from posting so frequently; I'm trying to catch up with the current moment and post off my summer related images and recipes to make room for the flavours of the fall.