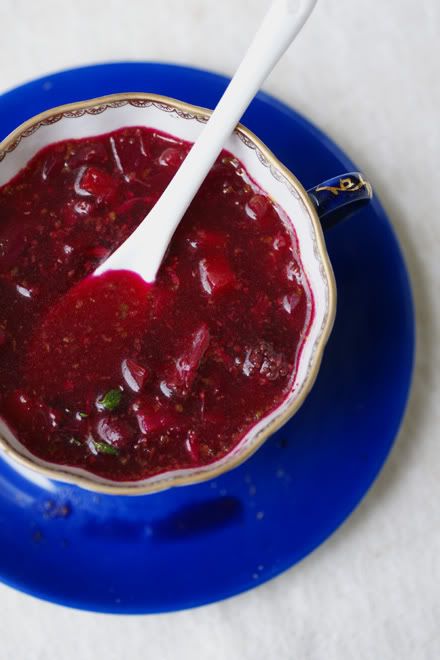 Quite often the food I think of making is inspired by the dinnerware I find from flea markets or purchase from shops. There's good many second hand boutiques in the area I live, and I stroll around to find unique pieces. I stumbled on this large deep blue and golden CCSS cup, and immediately my thoughts were led to sauerkraut and pelmeni.
I have visited Russia once as a kid, and since I don't remember much of the cuisine I made some research work and ended up using my left-over beets for a soup. The beets colour the entire soup deep burgundy, broccoli buds look like small pearls on the crimson broth and the scent of the beets mixes with the fine aroma of the vinegar and root vegetables. Enjoy with good bread and some soy yogurt on top.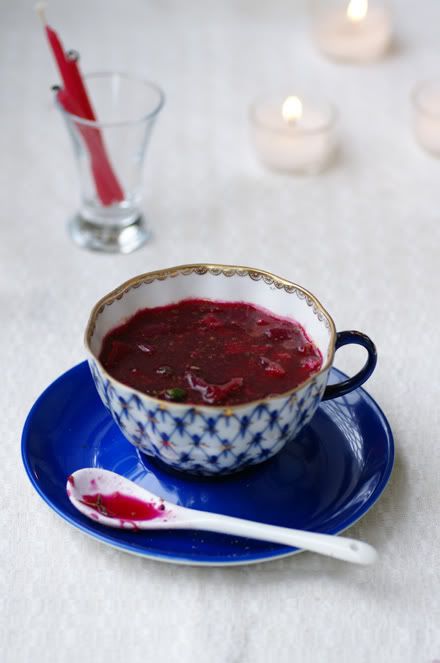 Borscht
1 onion
1 carrot
1 small broccoli
small parsnip
3-4 beets*
1 tbsp olive oil
1 liter water
1 good quality vegetable bouillon cube**
1/2 tsp capers and some 2 tsp of the pickle
2 tbsp white balsamic vinegar
marjoram, thyme, black pepper and salt to taste
plain soy yogurt
Chop the onion fine, peel the root vegetables and cube them. Grate one beet instead of cubing to add juice and colour. Slice the broccoli to small buds. Heat the olive oil in a kettle, add the vegetables and let them fry for a bout five minutes. Add water and bouillon cube, let simmer until the root vegetables are cooked. Chop the capers and add them with some of their salty preserving juice. Season with white balsamic vinegar, herbs, salt and black pepper.
*I used fresh beets, but pickled are also a good choice. Add them when the soup is almost finished, and omit the vinegar.
**If you often make your own vegetable broth, by all means use it instead.