Sometimes in the evening I find a green spot in this town
And i hide myself thinking of those circling skies
it takes me back to another time of duffel coats
And drawing lines in the late september evening sand
the pumpkin soup on the table as warm as the evening sun
Patrick Wolf/Pumpkin soup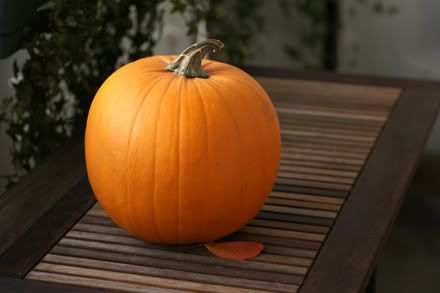 Another soup. There's nothing more suitab
le
than a ho
t, cre
amy soup to warm cold days now that winter is finally slowly arriving. Around Halloween all the stores started selling pumpkins and clearly overstocked them, so discounts were quite good. It has been a tradition for our
family to buy one and carve it every year, but this time I didn't both
er sculpting but instead
concentrated on roasting the seeds for salads, frying the peel to make decorations and baking the rest to make soup. I made notes while cooking, but they mysteriously disappeared so there might be some roughness in the amounts of the ingredients.
1 small winter squash
1 tbsp olive oil
1 medium onion
1-2 carrots
1 medium potato

1 liter vegetable stock
about 2 dl (circa 1 cup) coconut milk (I used light)
some plain soy yogurt or silken tofu
ground nutmeg, salt and black pepper to taste
Start by preparing the pumpkin, peel it first and save some of it. Cut the vegetable in half and then into segments of reasonable size. Scoop out the seeds, rinse them with cold water and set aside.
Drizzle some olive oil on the segments and peel if desired. Bake the segments and the peel in oven in 200 degrees Celsius (390F) until the flesh is soft and fully cooked. Be careful not to burn the peel, it's ready when it's dry and roasted. Let the flesh cool, then cube it. Keeps in a refrigerator for a couple of days.
Chop the onion, peel the carrots and potato, cube roughly. Heat the olive oil, add onion and fry for a few minutes. Add the carrots and potato, then vegetable stock. Simmer until potatoes are soft, add pumpkin and let boil for couple of minutes. Pour out excess broth into a container and puree the soup smooth in a food blender. Add soy yogurt or silken tofu, blend smooth and add coconut milk. Add some broth if needed. Re-heat, season and serve with roasted pumpkin seeds and good crispy bread.
Roast the seeds in medium heat with some little olive oil until crisp and golden.
I've also made some experiments with apple cheese-cake after nordljus, but it requires a lot more practice to get this just right. I'll try baking it upside down like tarte tatin and also experiment with the cheese layer to get it softer and more like a mousse. Generally, it works, but the nuances are still a bit off. Maple syrup tastes divine with apples, and the cake looks good already. I'm sucker for challenges, as mousse cakes are probably the most difficult cakes to convert vegan if meringue doesn't count. Agar agar doesn't work with foams as well as gelatin and the smoothness of the mousses is difficult to achieve with baked cheesecake, but I'll keep on practicing.

Also, had a little tapas dinner with Q, marinated miniature onions and kalamata olives. Cane sugar and olive oil for onions, cardamom, sugar, anise seeds and olive oil for olives.