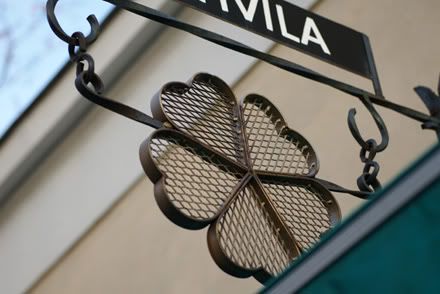 I'm blatantly copying
Q
with this post about
The Waffle Café or Vohvelikahvila
at Tampere, but unfortunately there aren't many cafés in Finland serving as delicious vegan waffles as The Vohvelikahvila - in fact there aren't any other cafés serving vegan waffles at all as far as I know. We often travel together, so it's natural we visit the same places and then wish to share the experiences respectively, so here goes the English introduction to this wonderful café.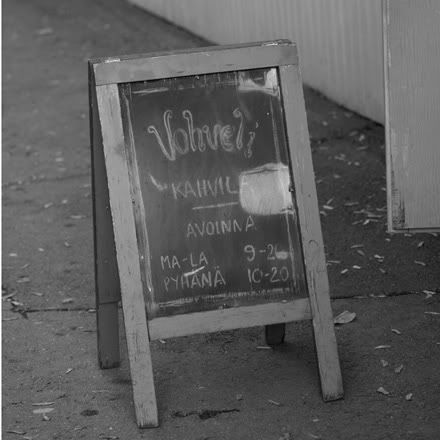 The cafeteria is located in the smallest masonry building in town, in a walking distance from the central railway station. There's approximately ten seats inside and about six more outside. In the summer it's nice to sip a cup of tea in the sunshine, but in wintertimes the café easily gets crowded. People come after the relaxed mood, sympathetic interior and del waffles, often bringing their kids along.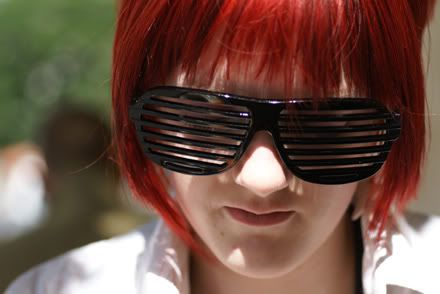 The vegan waffles aren't much promoted by the café, but the staff will gladly hand you the vegan menu if you ask for it. There's about three sweet and a savoury option with mixed vegetable cubes, onions and olives. An apple-lover, I usually order the sweet apple waffle: a soft, golden brown waffle with sweet acid apple cubes baked with the batter, soy ice-cream and chocolate or caramel syrup. The savoury waffle I tasted last summer was quite plain, so recommend are the sweet ones as desserts or festive snacks.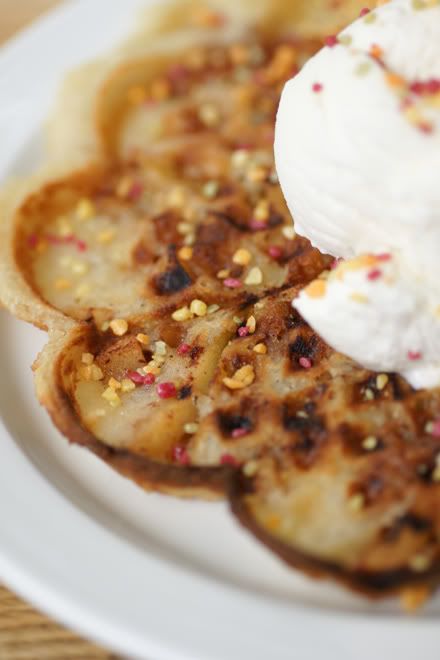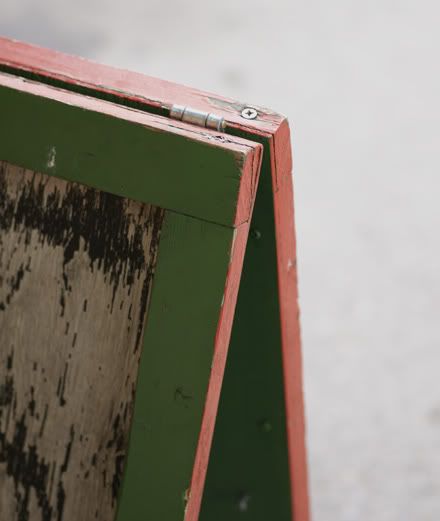 (bright photos taken this summer)
The prizes are on the higher side, one waffle costs roughly 5€, and sometimes the small place runs out of vegan batter which is stored deep-frozen, and customers have to wait it to melt and come back after couple of hours. However, the warm atmosphere of the café and the taste of the waffles make up for both the excitement of the attainability and the pricing.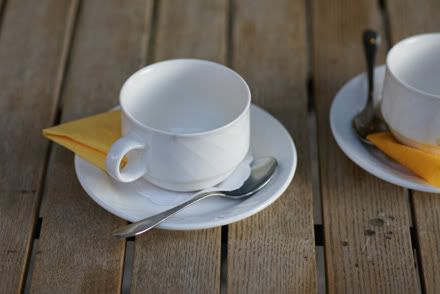 Tampere in general is a great place, the structure and size of the town is just right, and it's one of the few cities I'd consider living in. There's often interesting art-exhibitions around the city, and the industrial background of the town is fascinating: all those old masonry buildings and smokestacks in horizon are to my liking. For vegans Tampere was long a sort of unofficial veg capital of Finland, having the now days deceased vegan restaurant Veganissimo and a history of vegetarian movement. Luckily vegan Tampere is still living strong with restaurant such as
Gopal
and other veg-conscious places. And naturally whenever we visit Tampere we are tempted to find an excuse to visit Vohvelikahvila again to make our part to keep them making those coconut milk waffles!