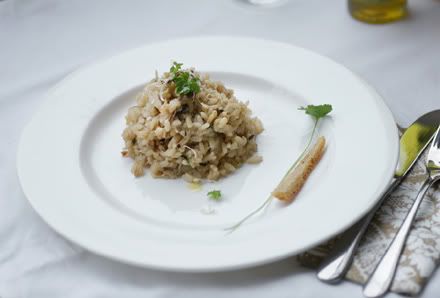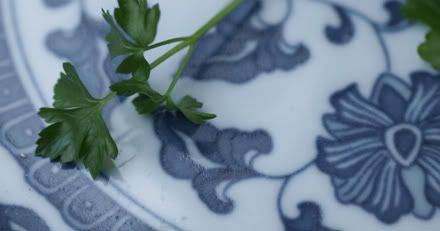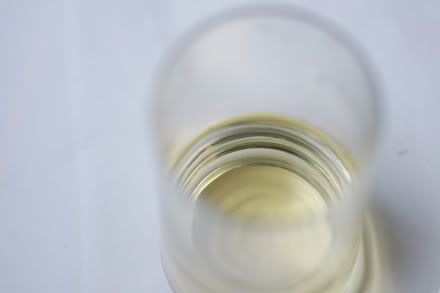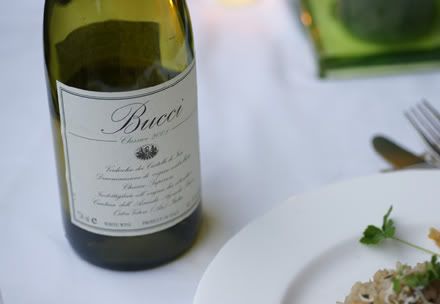 I don't borrow cookery books from the library as nearly as often as I did before, but some books I occasionally miss. One is "Italian kasviskeittiön parhaat" (translates "The best of Vegetarian Italian cuisine", original book called
Truly Italian
) by Ursula Ferrigno. The book is not vegan, but it's a great example of the variety of Italian dishes that are based on fresh vegetables - tomatoes, aubergines, fennels, salads, potatoes, courgettes - and different kind of pasta and breads. One recipe that instantly became a favourite was a fennel risotto, a recipe I have modified to further suit my taste and the ingredients at hand. So, when I wanted to make something for
Q
in return for all the meals we've shared there was no doubt of what I would prepare.
With the risotto I served another long-time favourite: simple focaccia with rosemary. The bread is easy to make, tastes great with a glass of good wine and serves about six people. For a dessert I made modern trifle with the flavours of Christmas, twisting the tastes a little with vegan blue cheese and white pepper.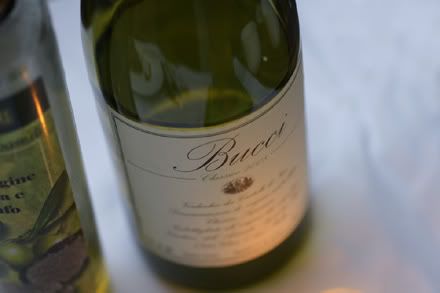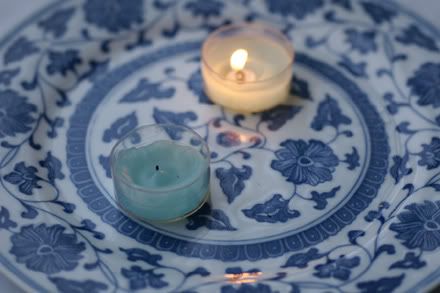 For drink with risotto and bread we had white wine, Bucci Verdicchio Classico Superiore 2007, and with the dessert simple black tea.
Fennel and Mushroom Risotto
Serves 2-4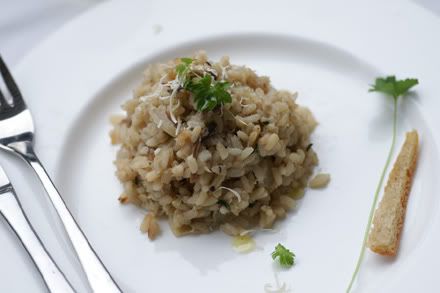 500 g Florence fennel bulbs
6 scallions or 1 big sweet onion
two handfuls of dried trumpet chantarelles (if not available, fresh champions may also be used)
5 heaped tbsp vegan butter
350 g risotto rice (for example Arborio)
1 l good vegetable stock
black pepper, fine sea salt
grated peel of 2 lemons
handful of fresh flat leaf parsley
some grated vegan cheese
Wash the fennels and remove any dried layers. Cut in thin slices, save some of the green parts for decoration. Peel and chop the onions. Soak the mushrooms in warm water until they're soft, squeese off the excess water and slice larger mushrooms.
Melt half of the vegan butter in a kettle, fry fennel, onion and mushrooms about five minutes. Add the rice and mix it in well. Keep the risotto simmering and start adding the hot vegetable stock one scoopfull at a time. Add more liquid after the previous dose has absorbed, and keep adding the stock until the rice is little over al dente. Add any remaining stock and let simmer few minutes in low heat. Season with salt, freshly ground black-pepper, grated lemon peel and parsley. Add the rest of the vegan butter and mix in some cheese. Let the risotto stand for some 2 or 3 minutes and then serve as soon as possible from warmed plates. Decorate with fennel and herbs.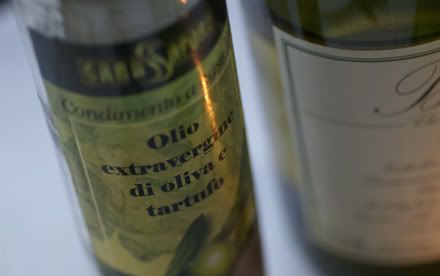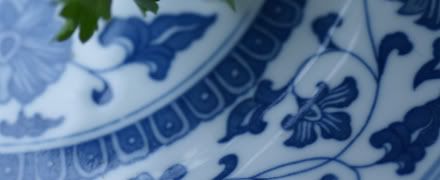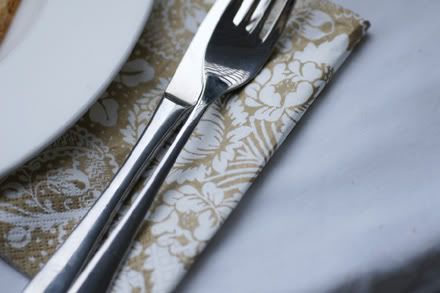 The decorative yet stylish paper napkins are by
Marimekko
, "Ananas" (Pineapple) pattern designed by Maija Isola. I'm a student of design, and greatly appreciate design that fits in to the everyday life. Many of Marimekko's design have been converted to affordable products aimed for all consumers, bringing beauty to all kind of homes.
Focaccia
makes 1 big loaf of bread
30 g fresh yeast (dried may be used, but I recommend fresh)
2 tbsp honey, light syrup or cane sugar
1 tbsp salt
6 dl (2 1/2 cup) lukewarm water
1 kg wheat flour
1 dl (1/2 cup) good quality olive oil
1 tbsp dried rosemary
1 tbsp sea salt
(100 g olives)*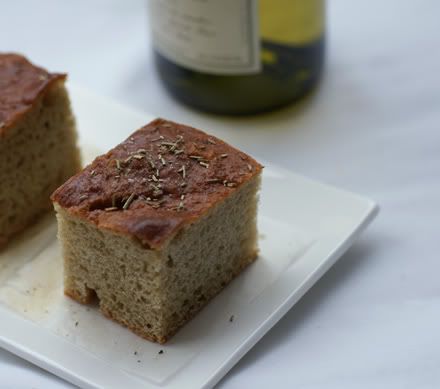 Crumble the yeast to the lukewarm water. Add honey or syrup, salt and some flours. Whisk the mixture well, then gradually add the rest of the flours constantly kneading the dough. Keep kneading until the texture is smooth and firm. Transfer into a clean bowl, cover up with plastic and let rise in a warm place about an hour.
Knead the risen dough well on a floured counter top. Pat it even and lift it into an oven pan or bread tin brushed with olive oil or lined with parchment paper. With this recipe I usually use a Silverwood brownie pan (about 20,5x31,5 cm or 8x21,5 inch) to get a really thick focaccia, but this bread surely fills up a whole oven pan if you let it rise long enough. Let the bread rise until it's filled up the tin or pan nicely. Mix dried rosemary with olive oil and sprinkle on the bread, add sea salt and optional olives. Bake in preheated oven in 180 degrees Celsius (355F) 15-20 minutes, or until the bread is golden brown and crisp. Let cool, cut in squares or thin slices and serve.
*Use good quality olives, the ones you have to pit for yourself are delicious but there's good Greek pitted olives available too. Use the ones you like, or try something else. Sun-dried or fresh tomato is good, so are mushrooms and different kind of herbs. Try sage or parsley for example. Or like myself a friend of simple things, just ground a little black pepper on top.
The recipe for this modern trifle is rough, to give more room for experimentation. A dessert like this is very easy to make; just whip up some foams, crumble the cookies, add tasty moisture and a dash of spices, pile it all up in beautiful glasses and serve.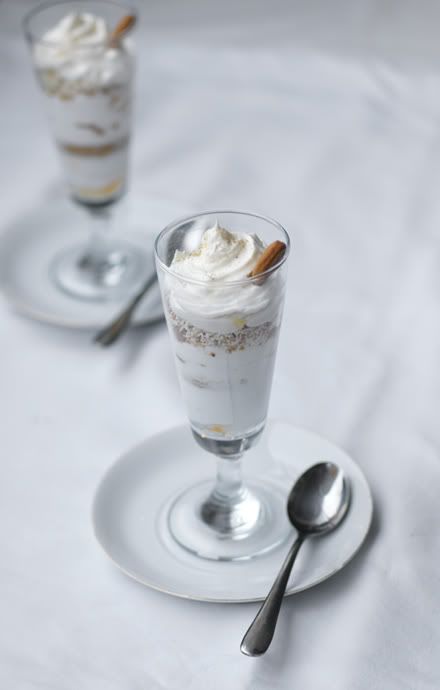 I made two foams, the other softer and lighter in contrast of crisp gingerbread crumbs, second slightly stiffer to be piped as a decoration. If you have little time one foam will do just fine.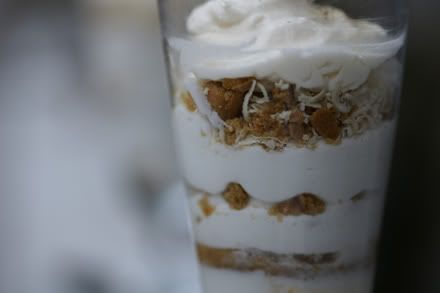 Blue cheese and gingerbread trifle
makes about two trifles
2 tbsp Calvados (apple liquor)
2 tbsp fresh orange or citrus juice
some orange or other citrus fruit flesh
2 dl (0,8 cup) soy cream
vanilla sugar
2-4 tbsp vegan butter
2-4 tbsp powdered sugar
2 tbsp plain tofutti better than cream cheese
blue style vegan cheese
gingerbreads, self made or bought (In Scandinavia; Anna's gingerbreads are vegan)
some round gingerbreads, with a diameter that fits into the glasses
white pepper
gingerbreads for decoration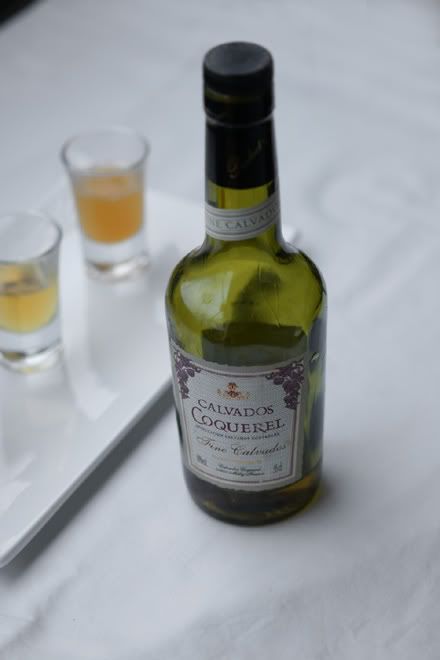 Mix the Calvados with fresh citrus juice. Whip the soycream, season with vanilla. In a separate bowl, whip together about equal amounts of vegan butter and powdered sugar. Whip in some tofutti. Add vanilla, more sugar, butter or tofutti if needed. To stiffen up the first foam, add a dash of butter foam to it.
Start assembly by adding a slice of orange to the bottom of the glass. Add a generous spoonful of light foam. Drop a round gingerbread on top and sprinkle with Calvados-juice mixture. Add a thinner layer of light foam, and cover it up with crumbled gingerbread. Dripple on a little moisture and cover up with a spoonful of light foam. Add grated blue cheese and more gingerbread crumbs, pipe a swirl of butterfoam on top. Sprinkle on a little white pepper, decorate with gingerbreads.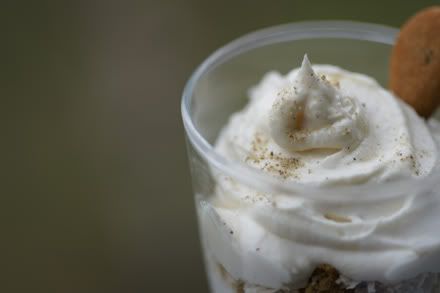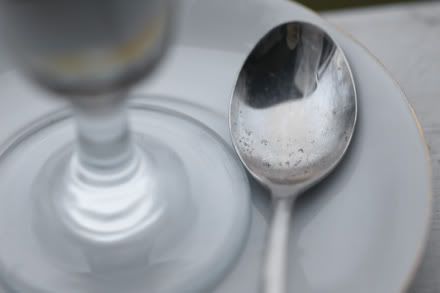 Luckily for me it was quite warm long in to the middle of December. To catch the light of short winter days, I photograph outside. When shooting these images it was actually warm in temperatures of 0-5 degrees Celsius (about 30 F), especially now when I compare it to the biting frost of -10 Celsius (15 F) during holiday shoots.