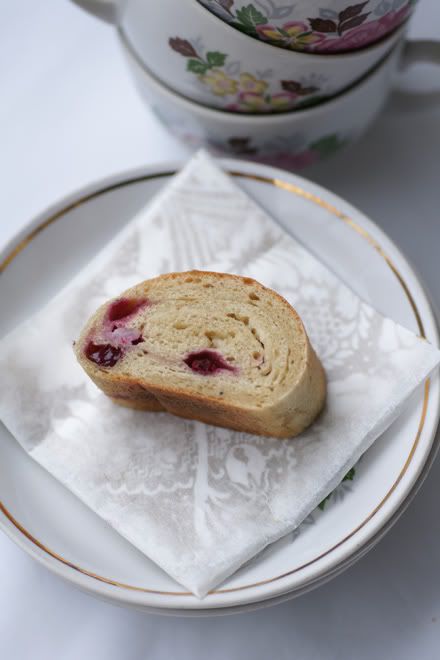 My father is the best baker I know. As far as I can remember he has made the most delicious buns and cinnamon rolls I've tasted. He's also superb with crêpes, blins and other pan-fried treats. All his baked goods have perfect texture and form. Few weeks ago he prepared cinnamon rolls for a get-together, and the rows of perfect buns looked like the easiest thing in the world to make. That's an illusion of course, as I realized when I was rolling the dough and trying to get it neatly filled and rolled up. I cut my first bun roll and it didn't look good, so I simply baked the rolls as they were and cut them up afterwards. I think I'll have ask him to give me a lesson or two about these.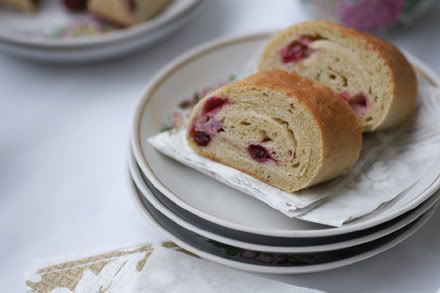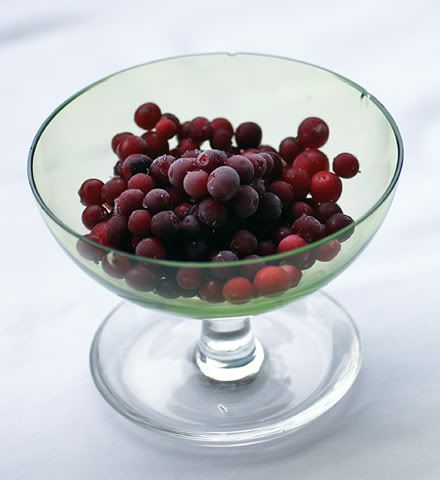 I used frozen lingonberries for the filling, which wasn't good for the rising of the dough. Next time I'll try jam with not too much sugar in it. Toasted almonds might be good too.
Lingonberry bunrolls
makes two short rolls, about 10 buns
2 1/2 dl (1 cup) soy milk
25 g fresh yeast
1 heaped tbsp soy yogurt
3/4 dl (0,3 cup) sugar
pinch of salt
1 tsp ground cardamom
50 g room-temperature vegan butter
about 450 g (8 dl 3 cup) wheat flour
melted vegan butter
a generous handfull of lingonberries (partly smashed or whole)
sugar, potato starch
Heat the soy milk lukewarm. Crumble in yeast, then whisk in sugar, cardamom, salt and yogurt. Add some flour and whisk well, then gradually add the rest of the flours constantly kneading the dough. Knead the dough until the texture is smooth and firm, add butter when the dough is almost done. Let rise in warm place about half an hour.
Roll or pat the dough into a rectangle, I cut it in half to better coordinate the filling and rolling. Brush with melted butter and sprinkle on lingonberries, some sugar and potato starch. Roll the dough up, placing the seam under the roll. Let rise in warm place, brush with some melted butter and sprinkle on sugar if you like. Bake in 225 degrees Celsius (430 F) for about 15 minutes. Let cool and cut in slices.
(the same with image)