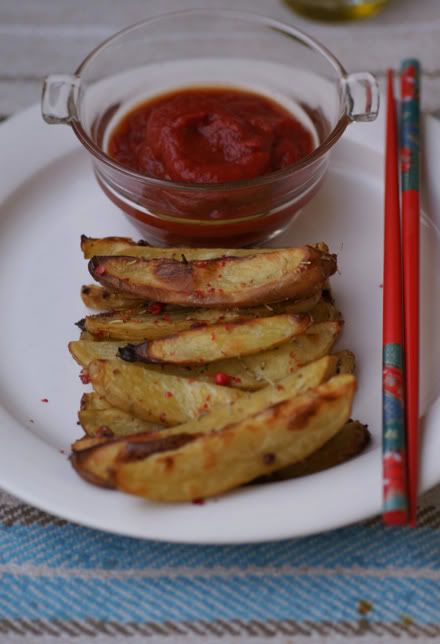 I'm not a big fan of potatoes. I suppose I got my fill of them as a kid, where potatoes were served almost every day in various different, uninteresting forms. Potato in itself is a versatile, affordable root vegetable, but the abundant everyday use made it appear dull to me. Frankly, I got bored with it, and when I moved to my own home I rarely cooked potatoes.
Now I think I'm getting over being fed up with them. I've always enjoyed new potatoes, but basic boiling is not in my opinion mouth-watering at all for older vegetables. Few weeks ago at my folks, where there's always a full sack of them, I thought of roasting them in the oven. I had the idea when I recalled a recipe from a Finnish book called
Tofukeittokirja
(tofucookbook) by Marianne Kiskola and Sanna Miettunen. Potato wedges were served with simmered tomato-sauce with silken tofu blended in.
Using what was in the fridge, roasted potato wedges with sour&sweet tomato dip emerged. There recipe for the dip is extremely rough, as I find it best to taste the dip every now and then to get the balance of the tastes just right. Add more sugar if the dip tastes too sharp, some water if it should be lighter, lemon juice to get the kick. The Peruvian pepper adds a nice touch of colour and distinguished, slightly sweet taste.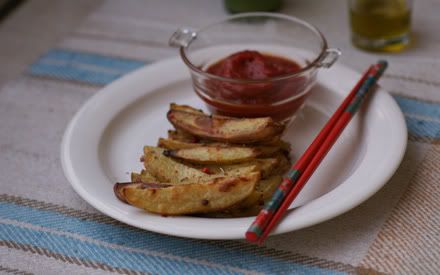 2-3 mid-size potatoes
2-3 tbsp good quality olive oil (I used divine Greek olive oil that had a fruity taste and light-green colour)
rosemary, sea salt, peruvian pepper to taste
1 small can (about 140g) tomato purée
sour&sweet sauce, white wine vinegar, water, lemon juice, olive oil and sugar to taste
Wash the potatoes well, cut into wedges. Distribute evenly on a baking tray. Mix spices with the olive oil, brush to the wedges and bake in pre-heated oven in 200 degrees Celsius (F390) for 15 to 30 minutes. When the potatoes bake, make the dip. Mix tomato purée with some sour&sweet sauce, spices and other liquids to get a dip of desired consistency and taste. Enjoy with some fresh crisp salad and drink.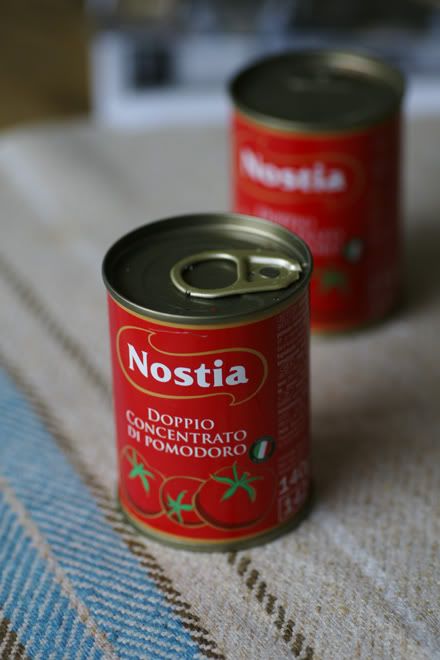 And sorry for taking this long to post! I've been happily buried under interesting projects and works, but as holidays draw closer I hope to post more often.