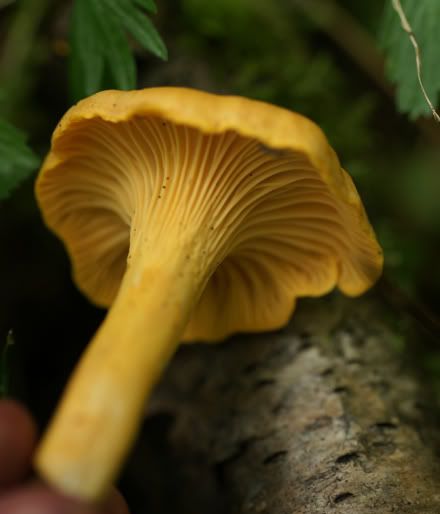 Silent hunting in the forests in the end of the summer may reward you with small golden trumpets. There is something very satisfying and joyous in finding mushrooms, going around in the greenness of forest and searching buttercup yellow chanterelles among the first fallen birch leaves. Rays of the sun turn the droplets of dew in the cobwebs into glimmering strings of crystal pearls, the fragrance of moss is heavy from the early morning's rain and the wind gently brushes treetops above. Chanterelles are excellent in creamy sauces, but I didn't want to use the first and probably only batch of them in something so heavy. Instead, I fried them and served them with other summer's flavours in a salad.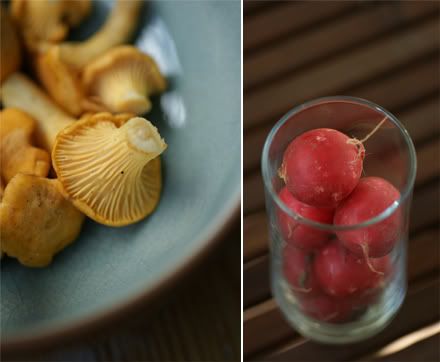 Chanterelle salad
(serves one, easily adjustable to larger quantities)
Couple of handfuls fresh chanterelle mushrooms (If unavailable, dried ones soaked in warm water until soft may also be used)
2-3 Cooked, cooled
new potatoes
App. 1/4 of small new cabbage
2-3 Radishes
Some steamed broccoli
2 tbsp olive oil
Salt and freshly ground black pepper to taste
1 tbsp olive oil
1 tbsp white vinegar
Sugar, salt and freshly ground black pepper to taste
For this salad, oregano flowers were used for garnish. Chives or basil would also be great.
Brush the mushrooms clean and cut of dried stalks or parts. Cut the potatoes into thin slices. Slice the cabbage and radishes, divide the broccoli into morsels. Heat 2 tbsp of olive oil in a frying pan, add mushrooms and fry on moderately high heat until most of the liquid has evaporated. Season with salt and black pepper, set aside. Return the pan into heat, add the potato slices and let them fry for couple of minutes to give them a nice golden shade. Season with salt and pepper.
Arrange the cabbage and broccoli on the plate, add potato and radish slices and the mushrooms on top. Sprinkle with olive oil, vinegar and seasonings. Serve with good bread.