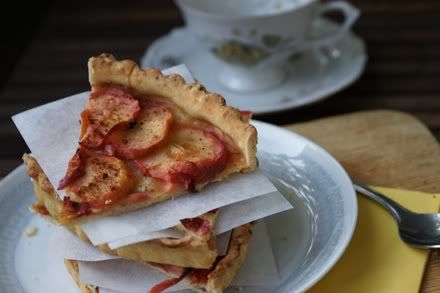 I'm very fond of apples. Keeping that in mind, this is very enjoyable time. Autumn is filled with the perfume of ripening fruit, and the mellow fruitfulness of apples lingerers in the air. It's the time of enjoying Finnish apples, seasonal treat over any other. Subtle flavour of cinnamon, the crisp sound of shining skin cracking under the teeth, fresh and slightly bitter zest of the juice; the sound and taste of welcomed fall.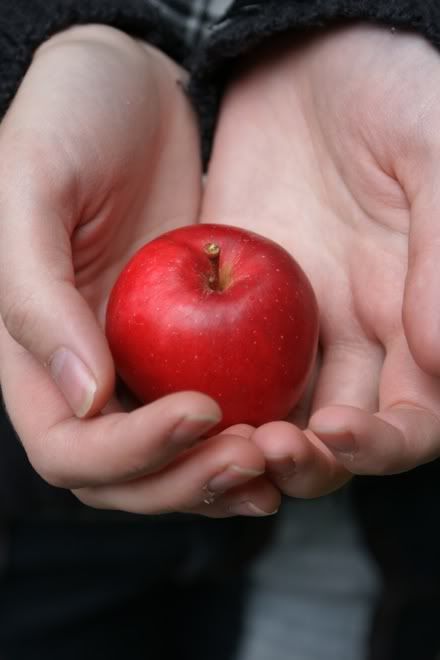 The city dweller I am, I have no garden nor apple trees of my own just yet. Luckily
Q
's parents' long-time neighbour has been kind enough to let us into his orchards. Fragile lace-like moss covers the shady garden, chestnut tree reaches over the gate and the fallen fruit dapple the deep green ground with shades of vermilion, cream and gold. And the scent! Mauve plums with dark-brown freckles have a scent reminiscent of caramelized honey, apples are made of cinnamon and acid cane sugar sweetness.
We were just quick enough to collect some good two buckets of apples before the downpour which arrived very unexpectedly after a clear, sunny morning. It wouldn't be a autumn I guess, without the rain and furtively tiptoeing coldness.
At home I remembered that in my counter there was already some grab-apples I had discovered earlier, and decided to use them first. Very simple recipe, very simple apple pie, but when the ingredients are this fresh I don't' feel like dashing in too many flavours but instead enjoying the major ones.
I used crab-apples, but any acid apples should do just fine.
Crab apple pie (serves 4-6)
150 g wheat flour
A pinch of salt
1 tbsp sugar
100 g vegan butter
1 1/2 tbsp cold water
5-7 apples
half of lemon or lime
3 tbsp dark sugar
cinnamon
Sift the flour into a bowl with salt and sugar. Cube the cooled butter and add it in, pinch the dough with your fingers lifting it up and letting it fall to form a crumble-like, even mixture. Add the water and mix with a metal round ended spatula to form a ball. Resist the urge to add more water, just quickly and strongly beat the mixture and it'll form a good dough. Store in fridge, let cool for a moment before rolling.
When the dough cools, slice the apples thinly and rub a little lemon or lime juice to prevent discolouring. My apples were so small I sliced them up vertically only, but when using larger ones cut them in half-moon shape.
I used a round app. 24 diameter Teflon coated springform pan, so it wasn't necessary to grease the tin.
Roll the dough evenly on a well floured surface, roll it just big enough to cover the tin and reach well over the edges. Lift the sheet of dough in to the pan and push it to the edges using your fingertips; try not to stretch the dough, let it more likely settle on it's place. Reel the rolling pin over the tin to cut of excess dough.
Arrange the apple slices on the crust, sprinkle with dark sugar and cinnamon. I had ran out of ground cinnamon, so I used grater to grind a cinnamon cane; a lot fuller taste than the pre-ground type has! I added some sour ground orange peel too, some lemon, lime or orange peel would taste great as well.
Bake in preheated oven in 225 degrees Celsius for about 20 minutes, or until the crust is golden brown and the apples well baked.
Enjoy with tea, whipped cream of your choice or some ice cream.