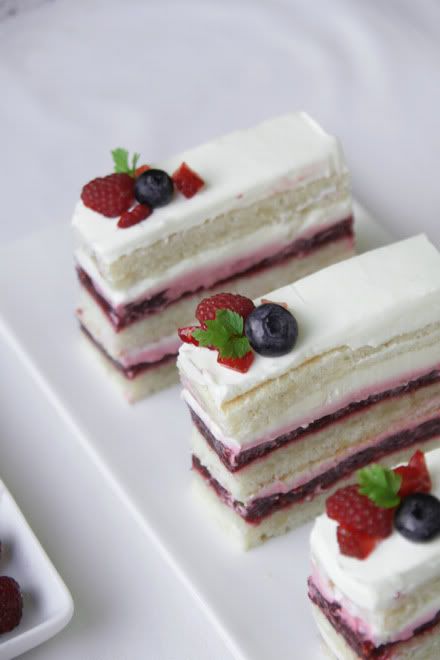 I found the original version of this cake purely on random. I was searching for a tartelette pastry recipe, and stumbled on
my tartelette
- a blog featuring astonishing photography and very creative recipes. The
rose cake
was so beautiful that when it dawned on me that my
sister
's birthday would be very soon there was only one cake I was thinking about. I fully veganized the recipe and tried my luck with no-egg, agar-agar and
tofutti
. Judging on the fact I hadn't done cakes in a long time, I was quite pleased with the result. My entire family enjoyed the cake, the only complain being that there was no seconds.
Deliciously suits vegans, vegetarians, lactose-intolerant people and the ones wishing to avoid abundant cholesterol intake. It took me some three hours to finish the cake to the point where it had to set, and some hour to cut and decorate it. Perfect for special occasions of fine parties, do give it a try!
Almond rose cake with raspberries
serves 5-7
Almond rose dacquoise
150 g almonds
100 g powdered sugar
1 1/4 dl (1/2 cup) no-egg or other egg substitute powder
generous 1 3/4 dl (3/4 cup) ice cold water
dash of vanilla sugar
80 g powdered sugar
2 tsp rose water
Raspberry filling
600 g frozen raspberries
1 1/4 dl sugar
0,6 dl (1/4 cup) water
2 tsp agar-agar powder
Foamy frosting
250 g cubed, room-temperature vegan butter
250 g powdered sugar
600 g plain better-than-cream cheese tofutti
2 tsp vanilla sugar
For decoration:
fresh raspberries, strawberries and blueberries (or any other beautiful berries available), some herbs.
Dacquoise
Grind almonds and sugar in a food processor or with a blender until fine.
Beat no-egg and ice cold water in a large bowl for couple of minutes, then gradually add sugar and vanilla sugar constantly beating. Keep on beating the foam until it slightly stiffens. Carefully and gradually spoon in the ground almond-sugar mixture, adding in the rose water little by little at the same time. Be sure to mix the batter thoroughly. The original recipe calls for a 8x8 or 9x9 square pan, but I used a rectangular 8x12 (20cmx30cm) pan instead. Line the pan of your choice with baking paper and pour the batter in, even out the surface with a spatula and bake in 350F or 200 degrees Celsius for about ten minutes, or until very pale golden. Let cool, then carefully peel of the baking paper from the back and set aside.
Filling
When the cake bakes, start making raspberry filling. In a kettle, mix the raspberries, water and sugar and boil until the berries are completely softened.. If not so, smash the berries with a fork. Remove from the heat and sprinkle in the powdered agar-agar. Let it dissolve, mix well and bring back to boil. Let boil for a few minutes, then pour into a tin similar size with the cake lined with aluminum foil. Let cool until firm, store in fridge until needed.
Frosting
Prepare the frosting. Beat the vegan butter, sugar and vanilla into a light foam. Add tofutti and keep on beating until fully mixed in. Taste, add more vanilla if needed. Keep refrigerated.
Assemble
I find it easiest to assemble a cake in the tin it's baked in. I have a Silverwood brownie tin with a separate bottom, which is very easy to use when it's time to put it all together. Just line the tin with baking paper before starting to keep everything neat.
Cut the cake layer in three smaller rectangles, and set one in the bottom corner of the tin. Cut a slice of similar size from the raspberry filling sheet and place it on the cake layer. Add a layer of frosting, smooth it out as evenly as possible. Add another layer of cake, then the raspberry layer and some more frosting. Finally, place the final sheet of cake on top, wipe off any excess filling, wrap up in aluminum foil and let set in a fridge for at least three hours or overnight. When the cake has set, remove from the tin and add final layer of frosting on top. Cut the cake in narrow rectangles with a sharp knife, smoothen out the top layer and sides. Add fresh berries on top and serve with tea or coffee.