For me autumn strongly associates with soups. My mother used to make excellent smooth potato and leek soup, like vichyssoise but served warm, and in my memories it's always dark, wet and cold outside when we sit around the table and pour hot, golden soup in battered
Arabia plates
.
Parsnip is one of my favourite root vegetables with its sophisticated flavour and light coloured meat. I've often used it in salads - meaning to post a recipe soon enough - but never as a main ingredient in a soup. Here it's combined with celery, some fennel and soy cream to make a velvety smooth soup, good served either hot or cold. The recipe makes soup enough for about two as a main course, but it's very simple to adjust for larger quantities; simply double or triple the ingredients. I find that soups should also be improvised according to the ingredients at hand, so if you don't have say fennel, use something else, and if you have plenty add some more. If you want to add more flavour, try sprinkling truffle or walnut oil on servings.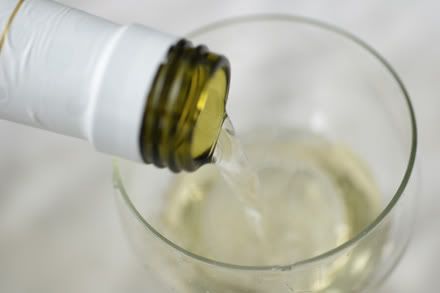 With the soup I enjoyed a glass of apple wine made by my father. He's getting really good at making it, the batch we got to drink this years is way better than last time. Fresh, quite smooth and round fruity flavour with no much acidity, medium dry. I reckon a medium-dry fresh white wine would go well with a light soup like this, or maybe even good quality apple cider.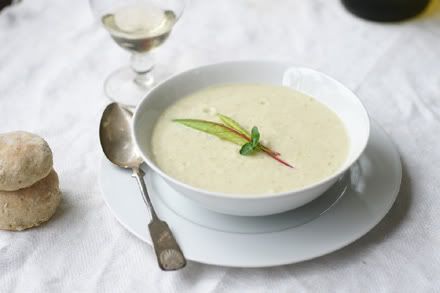 Parsnip soup
serves two as a main
2 tbsp olive oil
1-2 garlic cloves
1/2 onion
400 g parsnip
some four to six stalks of leaf-celery
1/2 of a medium fennel
1 liter vegetable broth, either self-made or good quality stock cube/fond
1-2 dl/3/4 cup light soy cream
3 tbsp plain tofutti better than creamcheese
salt, black pepper to taste
Slice cloves and cube onion roughly. Cube peeled and cleaned vegetables. Heat a kettle, add olive oil and sautée garlic and onion on medium heat. Add the vegetables, let them fry for a minute
and add the vegetable broth. Let simmer until parsnip is cooked. Pour out almost all excess broth, do not discard. Puree with a blender, add a little broth if the mixture seems too thick.
Pour through a strainer if you wish to have very smooth soup. Add the soy cream and tofutti, bring back to heat and simmer until cream cheese has dissluted, whisk to help it mix better. Season with salt and black pepper (I also added a pinch of celery-salt). Distribute to the plates, decorate with herbs - bloody dock and water cress used for the pictures - or with roasted root vegetable slices, nuts, seeds, slef-made crutons, soy yoghurt, thin slices of bread or whatever suitable you happen to have in the cupboard. Good served hot, excellent also as a cold starter.