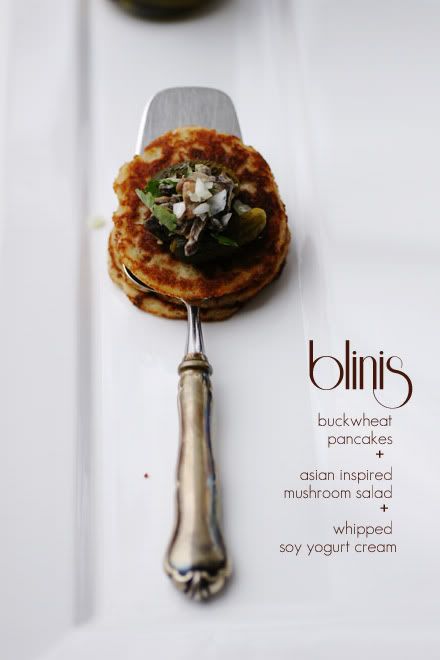 It's been a fresh tradition for me and my family to have an evening of blini in the winter or early spring. Blini is most often considered winter food, but would be very good as a summer treat with for example home made vanilla or coconut ice cream.
It's very easy to convert the traditional recipe vegan, and the taste doesn't change significantly. Just be sure to use good quality buckwheat flour for the batter and good vegan butter for frying.
This year me and Q had a good reason to make blini when we decided to invited our families to a get together party. The blini is a perfect dish for these kind of informal occasions where people don't know each other so well. Sure it can be prepared as real gourmet if served with extravagant sides, but I feel there's a strong down to earth quality in it. No need to stress about which fork to choose from the set of cutlery!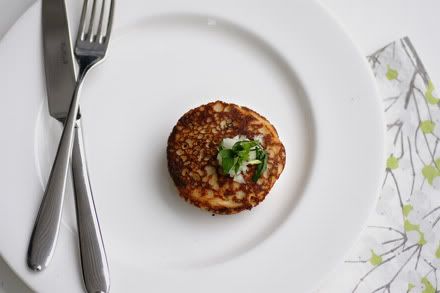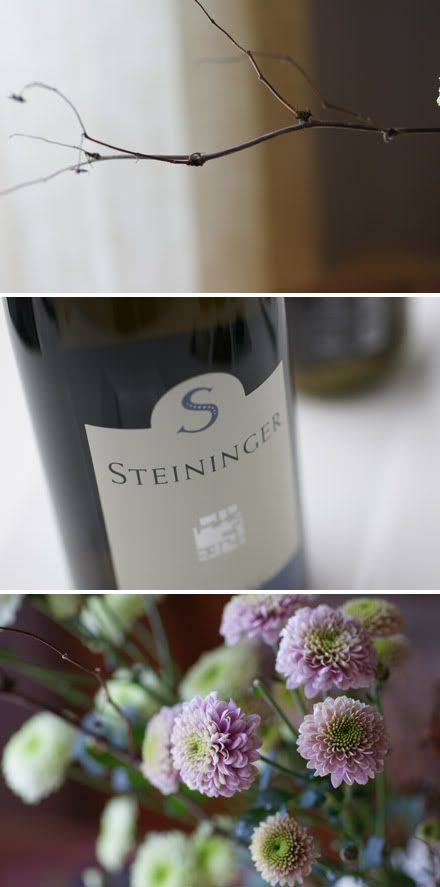 (The napkins are by
Marimekko
again.)
We served the blini with fine chopped onion cubes, mushroom salad with Asian touch, canned mini cucumbers, vegan caviar made of seaweed and whipped soy yogurt+cream. The acidity of onion contrasts with the greasy softness of the pancakes, same goes with salty morsels. For dessert blini, serve fresh fruit salad or whipped soy cream. I have a hunch that fresh, little a bit bitter sweet strawberries served with whipped soy yogurt and tofutti would taste very good with blini.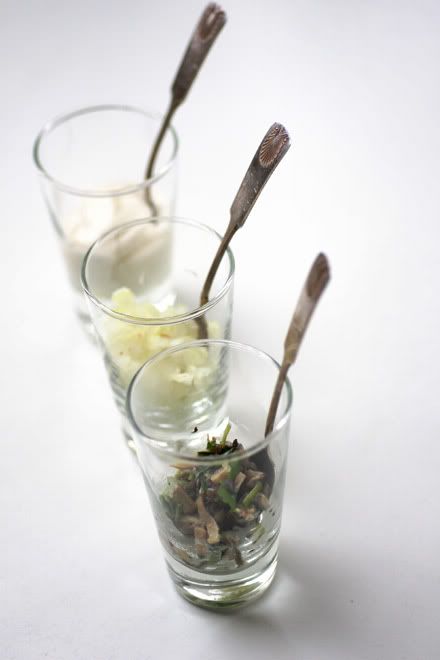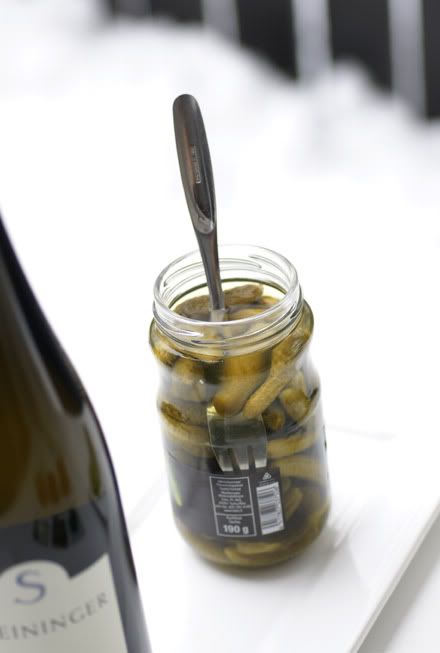 A blin is best eaten straight from the skillet, but if there's no one who wishes to spend the night frying pancakes while others enjoy them I suggest keeping the blini warm in a oven.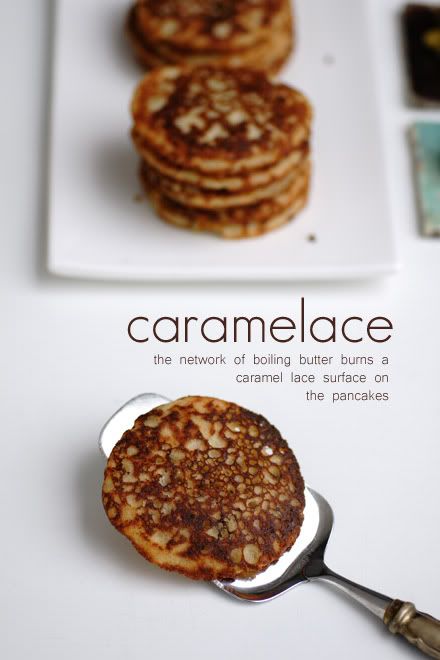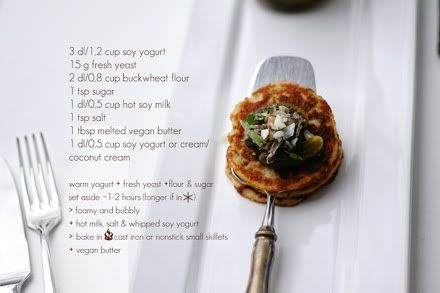 (click to enlarge)
Blinis
3 dl/1,2 cup soy yogurt
15 g fresh yeast
2 dl/0,8 cup buckwheat flour
1 tsp sugar
1 dl/0,5 cup hot soy milk
1 tsp salt
1 tbsp melted vegan butter
1 dl/0,5 cup soy yogurt or cream/ coconut cream
Warm the yogurt and whisk in fresh yeast. Add flour and sugar, set aside for one to two hours, or longer if kept in cool place. The dough may be left to rest overnight in a refrigerator.
The batter should be increased in volume, foamy and bubbly when ready. Whisk in the hot milk, salt and whipped soy yogurt, cream or coconut cream just before using the batter. Fry in hot cast iron or nonstick small skillets with abundant dollops of vegan butter. Add butter and when melted spoon a generous tablespoon of batter into skillet for each blin. Bake both sides until golden brown.
We doubled the amount of ingredients for nine people.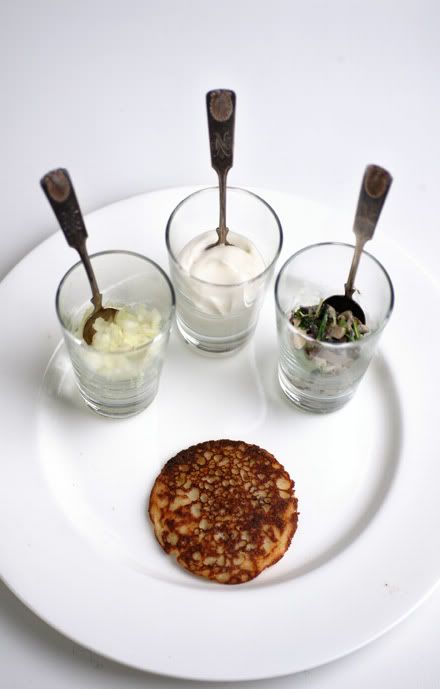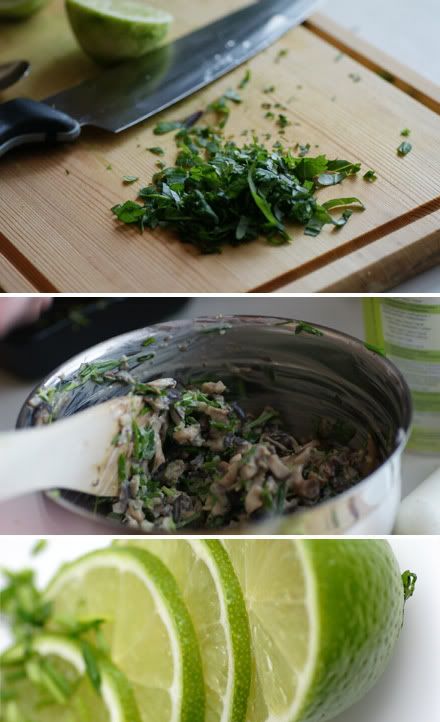 Mushroom salad with Asian touch
shiitake mushrooms
brown or white champignon mushrooms
soy yogurt
thai-basil
coriander
chives
zest and juice of one or two limes
salt, sugar and white, lemon or black pepper to taste
I'm giving no amounts of ingredients here, since it's best to mix this salad according to the gut feeling.
Slice the mushrooms. We used more shiitakes than champignons because shiitakes often have more taste than the champignons sold in supermarkets do. The mushrooms can be either fried in a drop of olive oil or used raw.
Chop the herbs. Thai or cinnamon basil goes well with lime, but if these are unavailable just use common basil. Mix in herbs, lemon zest and juice, season with sugar, salt and pepper. Store in the refrigerator.
For the whipped soy yogurt and cream, soy yogurt and cream were whipped into light foam and served with other sides from small bowls. For drink we had chosen a dry white wine, Austrian Steininger Riesling. We had some other white and red wines too, but the Steininger was a great contrast for the blini.
***
I'm a part time graphic designer, so typefaces and the way they go with the images are very important things to me. I had some hard time deciding whether I should go for the stylish, elegant and festive nostalgia of Riesling or the more contemporary, contrasting and bold feel of Script MT Bold. After some anguished pondering, I favoured Riesling (it's what we drank too). I'll be definitely using the other type some time soon. Any opinions however, would someone have rather seen Script MT in the first image?