The May Day in Finland is the official day for getting acceptably drunk in public (New Year follows strong). The day is a national holiday, and it opens up the season for outdoor picnics and brunches. Often it's actually still too cold to enjoy sandwiches and salads in the park, but if there's no downpour people gather their blankets, tables, champagne bottles and garden canopies and head to Ullanlinnanmäki. The brunches nowadays reach into ridiculous proportions, and the trash people leave behind is as sad as the day's celebration is joyful. Me and my partner wanted to spend the day in a more traditional way, eating doughnuts and drinking mead, and so we did. Well, we drank some rosé champagne, and there was a modern twist in the nostalgic treats as well. We prepared the mead with limes accompanying lemons, and added coconut to the doughnuts.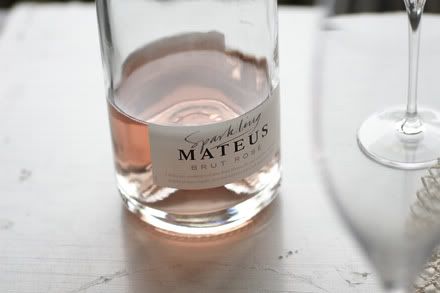 My mother celebrates her name day on May day, so it was always a little more special for our family. We prepared mead in an old big kettle which was used only that one time every year (it was too big for anything else). The mead took way too long to be finished, and we impatiently followed the rising raisins in the bottles. On May day we used to decorate the table with colourful paper streamers and balloons, and fry doughnuts. We always prepared ring doughnuts, and at first it was a little odd to eat small spherical doughnuts. The ones we prepared this year are made using coconut cream, and taste great with cold drink.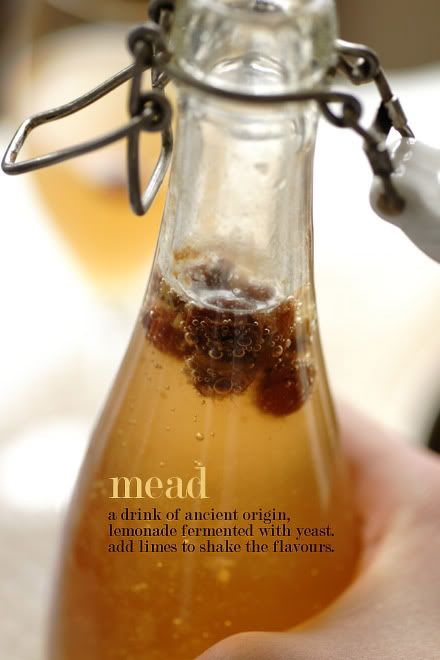 Lime mead
5 litres water
2 organic lemons
2 organic limes
4 dl/1 ½ cups brown sugar or cane sugar
4 dl /1 ½ cups sugar
½ tsp Fresh yeast
Raisins
Carefully wash the citrus fruit. Grate the lemons and limes, or zest them with a special tool or a regular peeler. Then slice the fruit fine.
Measure the water in a big kettle and bring it to boil. Add the sugars and mix until dissolved. Add citrus zest and slices. Remove the kettle from heat and let it cool in to room temperature. Dissolve the fresh yeast with a small amount of water and add to the rest of the mixture. Leave in room temperate to ferment overnight. In the next day pour the mead through a sieve and bottle in carefully cleaned bottles. Drop few raisins in each and keep in the fridge about a week before enjoying. If the bottle tops are real tight, the raisins in the bottles rise from the bottoms to the surface when the drink is good to go.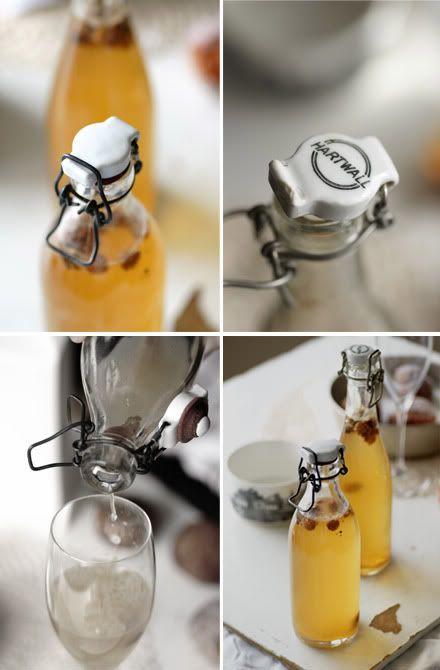 I've bought old lemonade bottles from flea markets whenever I've found them. I like the simple, functional design of both the bottle and the cap. Plastic bottles look quite ugly compared to these well aged items.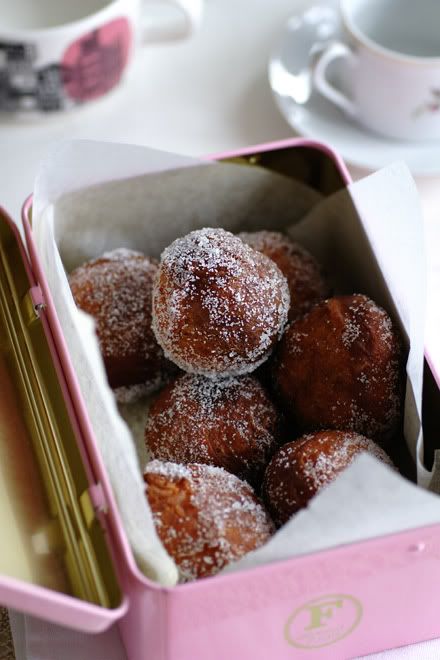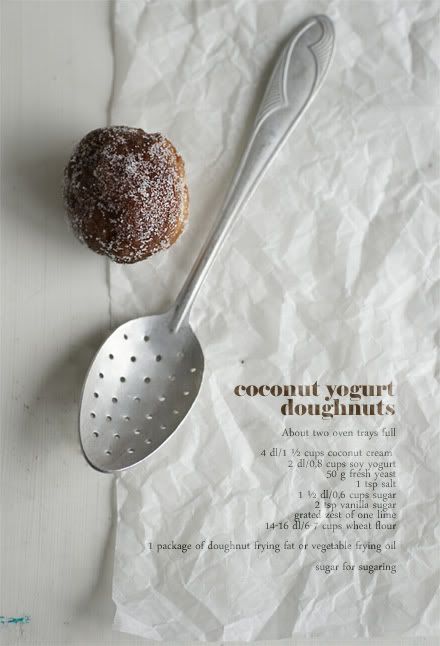 Coconut yogurt doughnuts
About two oven trays full
4 dl/1 ½ cups coconut cream
2 dl/0,8 cups soy yogurt
50 g fresh yeast
1 tsp salt
1 ½ dl/0,6 cups sugar
2 tsp vanilla sugar
grated zest of one lime
14-16 dl/6-7 cups wheat flour
1 package of doughnut frying fat or vegetable frying oil
sugar for sugaring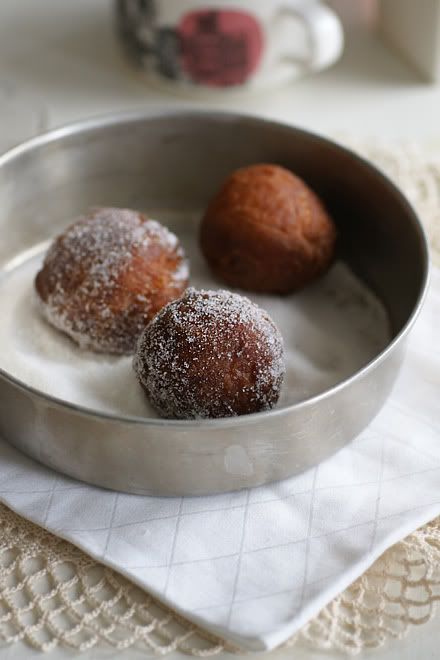 Mix the coconut cream and soy yogurt in a kettle and heat until lukewarm. Crumble in the yeast and whisk even. Add about five deciliters/two cups flour, salt, sugars and the lime zest. Mix with a spatula or large spoon, little by little adding in some five deciliters/two cups more flour. Start kneading the dough and knead until the dough is soft and pliable. Add flours as you knead, but try to keep the dough pretty soft. When the dough is soft, the doughnuts will be fluffy and delicious.
Cover with plastic wrap (I reuse bread, fruit etc. bags as dough covers) and let rise in warm and draughtless place until doubled in size. Take the grease indented to use in room temperature to warm up.
When the dough has risen, turn it over on a well floured surface. Flour your hands before working on the dough. Roll the dough in elongated form and cut in pieces that fit snugly in the palm of the hand, about the size of a golf ball. The doughnuts will be raised again before frying, so don't exaggerate. Form the pieces into balls and set them on a baking tray covered with parchment paper. Cover with a cloth and let rise until the surface feels elastic and bounces back when poked.
Heat the grease in a kettle or deep wok pan. The fat is hot enough when a dab of dough dropped in fries in a minute. Always keep the kettle or pan cover nearby, and if the grease flames cover it immediately to suffocate the fire. Never use water to put out burning grease! It's also handy to have a sturdy plate or bowl for the straining ladle, and of course a dish for the doughnuts.
Gently drop three or four doughnuts at a time to fry. If there's enough room, the pastries turn around by themselves, but you can also turn them around with the ladle. After the first pastries have been turned, add few more to fry.
When the doughnuts are ready, lift them up with a straining ladle and place on tissue paper. Let cool on a griddle.
After done with the frying it's time to sugar. The doughnuts should be warm when sugared, so quickly microwave them or if there's more people cooking ask someone to sugar them when they're cooled off a little but still warm after the frying. It's easiest to fill a bag with sugar, add some doughnuts and give the bag a good shake. You can also mix spices with the sugar, like cinnamon, cloves, cardamom or citrus peel. Try cane or self made vanilla sugar to add more flavours.
The doughnuts are best eaten fresh and warm with cold soy milk, mead or lemonade, so if there happens to be any leftovers (I deeply doubt) deep frost them for future afternoon tea or breakfast treats.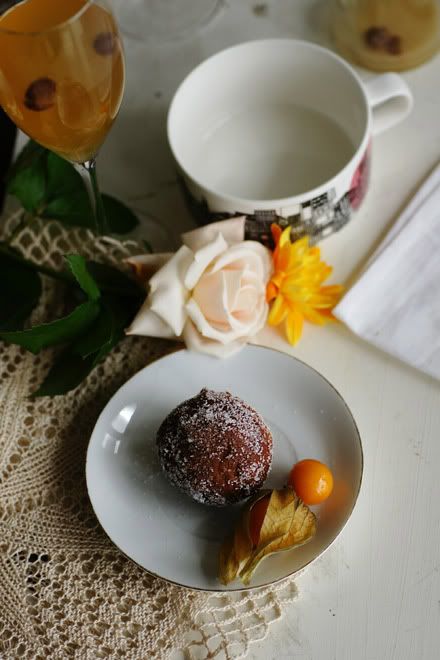 Both recipes by
Q
, translation and slight alterations by me.
Including some talk of design and illustration in products. While I love using second-hand tableware in photos and searching new old items from flea markets and recycle centers, occasionally new design strikes a chord.
I'm not a fan of all
Marimekko
products, but these cups were an instant favourite. The low, horizontal form is somehow very pleasing and it communicates with the illustration well. The cups are part of Oiva "In good company" tableware collection, designed by Sami Ruotsalainen and illustrated by
Maija Louekari
. I adore the illustration, the black line drawing and bright hand drawn dot of colour. The illustrations bring some works of Kustav Klimt in my mind, it might be teh resemblance created by two dimensional buildings with strong geometrical forms and surreal feel. Anyhow, the cups are great in every day use and look good with easy going picnics and evening settings.
Note about posting so late:
I'm not really sure if it's annoying when I post Christmas, May day or Easter related posts two months late. I'd like to think that I'm simply being a lot more ahead than just plain late, since it doesn't feel good to fry doughnuts a month before May, or make Easter settings in February. I like the feel of different kind of seasons, and blogging is a great way to remember past times and feasts. Going into the fashion world convention of constantly thinking abut the future is not where I'm going. Well, that said, I think I could speed up the editing and writing process a little...