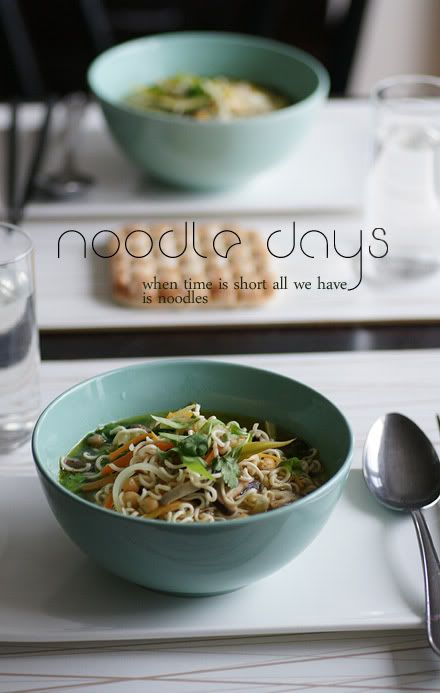 It's been a while again, spring has been busy. The ending of the semester at school and the starting of my job overlapped, so there was a lot of unfinished business and new projects on top of old ones. Pictures have piled up, and it's been a pretty labourious task to go through them all. I have a bad habit of leaving the photos waiting, and photographing new ones at the same time. That's why I have some fashion related images from last fall still in line to be photoshopped.
So, when there's 16Gb of photos to go through, I rely on instant noodles. With very little effort they'll be delicious, and of course quick to prepare.
We usually chop up some carrots into matchstick thin slices, and add some spring onions and maybe broccoli if we have it. Thinly sliced veggies start cooking in the steaming water, but stay crisp. Water boils in electric kettle while we chop the vegetables, then noodles and veggies are placed in a bowl. Seasoning included in the package may be sprinkled on depending on what other seasoning is used. Boiling water is poured on the ingredients, and the bowl is covered with a plate to keep the steam in.
After some five minutes, I might add some rice vinegar, sesame seed oil or soy sauce. The instant noodles we usually buy are good without any extra seasoning though. Add silken tofu cubes, shiitake mushrooms or some beans for a more filling soup, and enjoy with good bread.
Then back to work after a well-earned lunch break.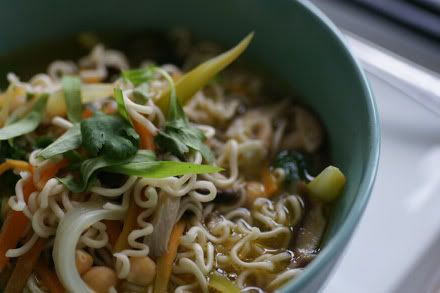 (The noodle soup shown here was invented couple a weeks ago. It was very delicious at a particularly windy, cold, rainy and overall unfriendly day in the end of May. We're still working on the recipe, so when it's finished I'll post it with some new photos.)