I like Jamie Oliver. His recipes are creative, simple and easily adjustable. I like his style, using fresh ingredients and handfuls of herbs, clean and good like food ought to be. Okay I wouldn't buy all his brand products, and as a design student I'm not drooling over all his pans either, but generally the guy is great.
We've been reading his book Jamie at Home: Cook your Way to the Good Life, which is fantastic. I love the photos, the illustrations, the colours and the gardening theme that's carried throughout the whole book. The photos of Jamie's Essex garden make me want to leave the city for a countryside dwelling for good.
The book is printed in matte, thick paper, which brings out the shades of the earthy but bright colours brilliantly. The designers have used a great deal of different colours in the book, but they look very good together, like in a garden filled with different hues of flowers, vegetables and weathered tools. The photos are relaxed, somehow soft but well styled and beautiful to look at. And I especially love the way illustration is used combined with the photos: very simple paper cut style pictures decorate the pages where Jamie describes different kind of ingredients.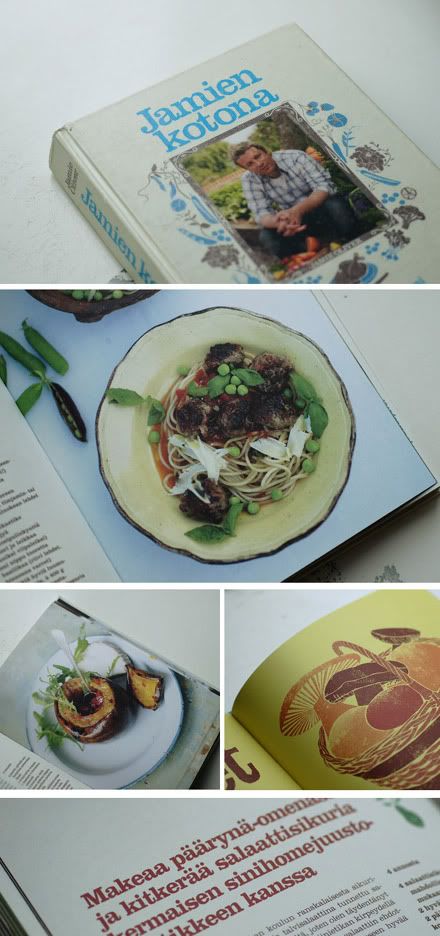 As in all other Jamie Oliver books there's a large portion of meaty recipes. For me that's not a big problem since I find a lot of inspiration from the mere photos, not considering the ingredients but instead shapes, colours and textures of the dishes. The emphasis of the book is strongly toward organic produce and growing your own vegetables, quality over quantity all around. There's also a good chapter about the horrid battery farming still practiced in Europe and US. I'm really glad people with influence in the food business make these statements and actually change people's attitudes to the better.