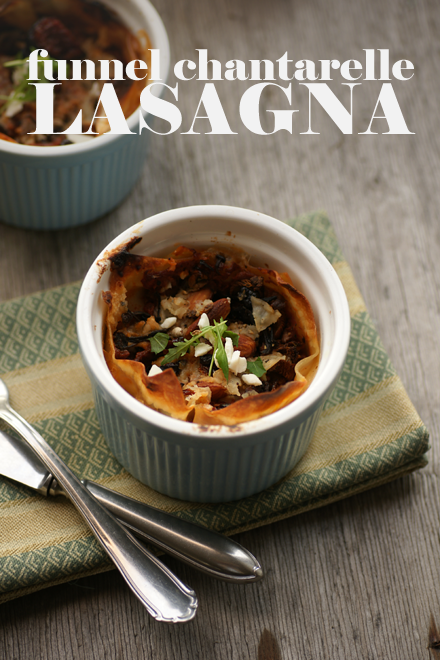 Okay this post was originally associated with the
silent hunt
post last fall, but I failed to produce it right after we went on our mushroom gathering trip, so here it is now. If you picked mushrooms last fall and dried any, you can use them in this recipe, or buy dried funnel chanterelles from a store. If funnel chanterelles are not available, try using portobello mushrooms. The taste and texture are different, but they should be fine. My partner uses dried funnel chantarelles in macaroni casserole mixed with soy protein crumble, and they give nice texture and taste to the pasta.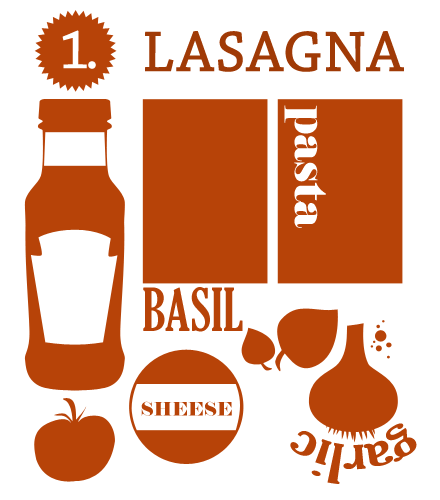 A word about lasagnas. I haven't really missed the foods I used to eat pre-vegan. Sure, grilled meat smells delicious, but basically I've been okay with my decision, and it's actually odd I haven't been graving sausages or the said grilled meat. I know a lot of people miss the tastes from their childhood, and for me lasagna is one of those.
Lasagna is our dad's bravura, he's the one to prepare it, long scale with bechamél sauce, cream, margarine and green pepper. We kids used to drink Pommac with it (it's a non-sweet fruit lemonade) and the lasagna dinner was always a sort of an occasion. Everyone at the table, being happy together. So for me real lasagna is a family dish, specialty, and I've always frowned on the school cafeteria "lasagnas" and ready made lasagnas. Real lasagna should be firm, thick, delicious, with tomato sauce, green pepper and well cooked fillings. The pasta should be well cooked, but not porridge, and the tastes should melt together softly. Aside this, anything goes, vegan cheese, almonds, mushrooms, spinach, root vegetables.
So, keeping with the long scale tradition, there's quite a lot sauces and steps in the recipe, and it takes a lot of time. But it's definitely and absolutely worth it. This would be a perfect dish for a Sunday family dinner, served with some light white wine or fruit lemonade and crisp herb salad.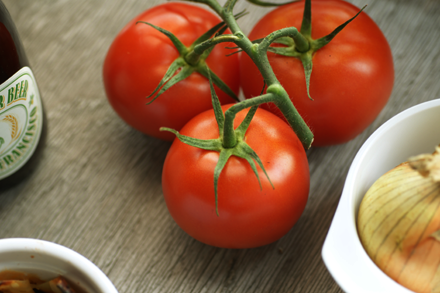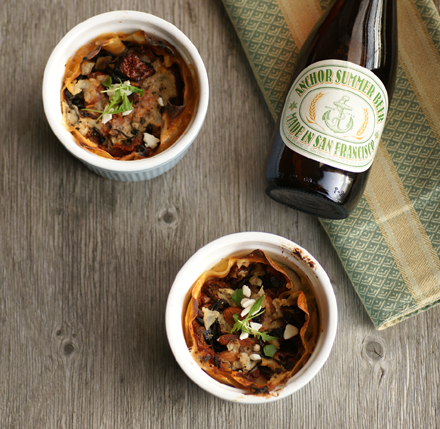 Funnel chantarelle lasagna
(recipe by
Q
)
Bechamél sauce
40 g vegan butter
150 g vegetables and root vegetables, carrots, onions, parsnips, celeriac
30 g wheat flour
1 l (~4 cups) vegetable broth
4 dl(~1 1/2 c) vegetable cream (soy, rice, wheat)
1 Cube the vegetables
2 Heat a 2 liter kettle, add vegan butter. Sauté the vegetables about 10 minutes, don't let them brown.
3 Add wheat flour, and cook few minutes constantly mixing.
4 Add hot vegetable broth. Let boil on mild heat for an hour, mix once in a while. Pour through a sieve and add the cream. If the sauce seems too thin, add corn starch to thicken.
Tomato sauce
3 cans organic crushed tomatoes
1 (red) onion
2-3 cloves garlic
5 dl (~2 c) organic red wine or tomato juice
1 vegetable broth cube (Reformi makes the best)
herbs (basil, sage, flat leaf parsley, lovage)
salt, pepper, sugar to taste
1 Chop the onion and garlic fine
2 Sauté the onions in a medium size kettle until they are translucent.Add the broth cube, crushed tomatoes and the wine or juice. Let simmer on low heat about an hour. Add salt, pepper and herbs. For the best sauce let it simmer about 3 hours, adding more liquid if needed.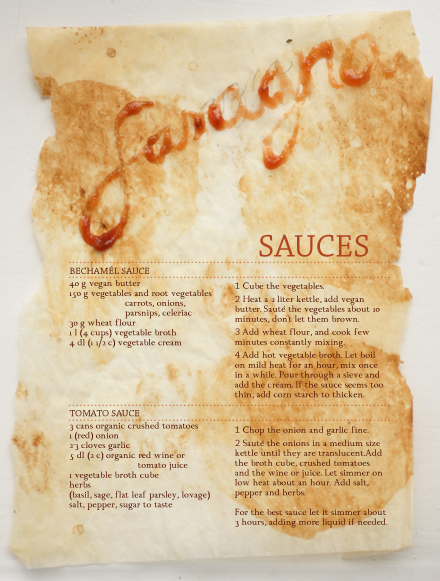 Filling
5-7 dl (~2-3 c) fresh funnel chantarelles (when using dried less is fine)
1/2 onion
1 garlic clove
2 dl (3/4 C) textured crumbled soy protein
soya sauce
balsamic vinegar (red or white)
3 dl (~2 c) water
1 Clean the mushrooms and chop large ones. If you use dries mushrooms, soak them in hot water for about 5 minutes before using.
2 Boil the water, add soy sauce, balsamic vinegar and soy protein crumble. Let the liquid be absorbed and pour off excess.
3 Chop the onions. Sauté them until translucent, add mushrooms and soy crumble. Fry for 5 minutes and set aside.
To assemble
lasagna pasta sheets
grated soy cheese (I prefer sheese)
1-2 tomatoes sliced thinly
herbs
almonds (brown, not blanched)
Assemble the lasagna to a greased oven pan. Use either one large pan or many small ones. We noticed that when using small pans it's a good idea to slightly cook the pasta sheets as they don't have enough time to cook thoroughly in the oven. Pour tomato sauce and soy crumble-cheese filling on the bottom of the pan, add pasta sheets, pour on tomato sauce and again with the mushroom filling. Top with bechamél sauce and grated cheese. Sprinkle on herbs and almonds. Repeat until the pan is full. Add grated cheese, almonds and sliced tomatoes on top. Cook in preheated (175 degrees Celsius 345 F) oven for about 1 hour or until baked. Let stand 10 minutes before serving.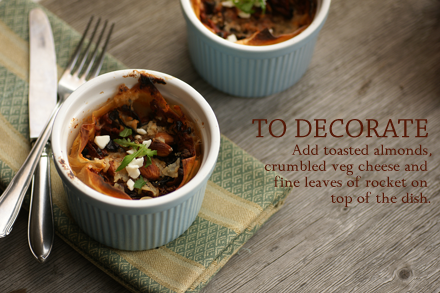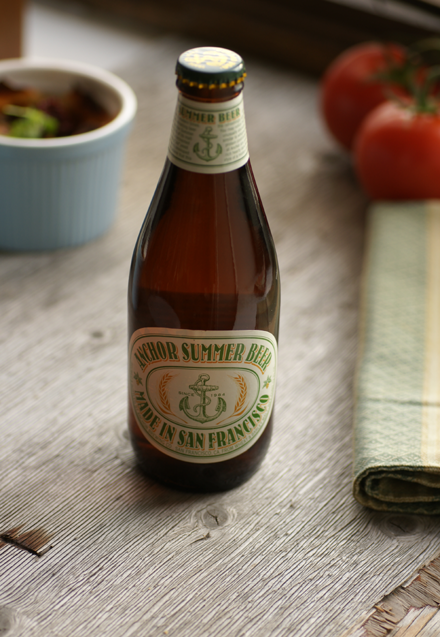 The
Anchor Summer beer
used as prop in the photos is vegan according to at least
this website
listing vegan beers.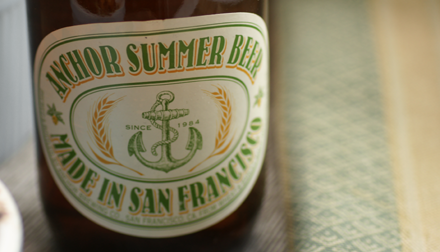 (I like the graphic design of the label a lot, it's so simple in colours and traditional)