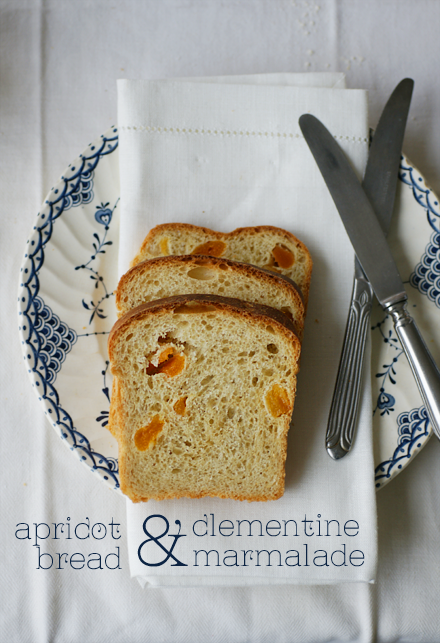 I made this bread and marmalade combo about a month ago. The bread is great as toast, and a little different from any loaves available commercially. It would well suit Easter dinner or lunch, I'd serve it with a dish with some savoury touches, for example a salad with walnuts or asparagus soup, to cut the sweetness of the apricots a bit. The marmalade is just simple, sweet treat to go with the bread.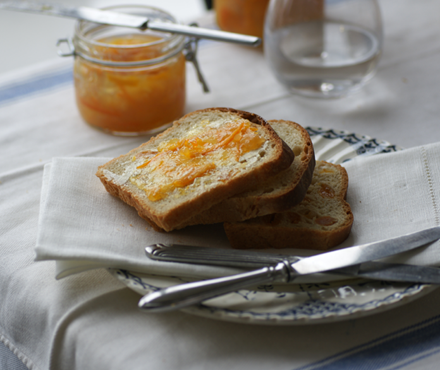 click to see full view
click to see full view
This bread is a of long scale-treat. On the first day starter is prepared. It rests in the fridge overnight, and on the second day it's mixed in with the actual dough. The most time-taking steps are the ones where the dough is leavened, where it rests under a plastic wrap or moist towel. But it's all well worth the waiting and effort. The crust is crisp, the soft dried apricots add sweetness and the crumb is airy and smooth. Just a touch of white- or black pepper adds taste and zest. Great as breakfast, or as a afternoon snack with black tea or coffee.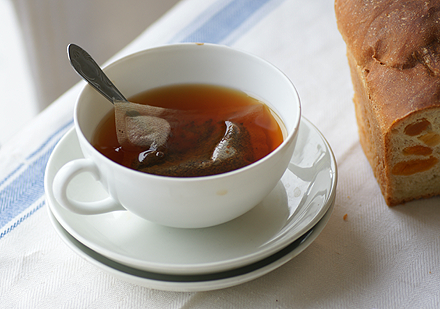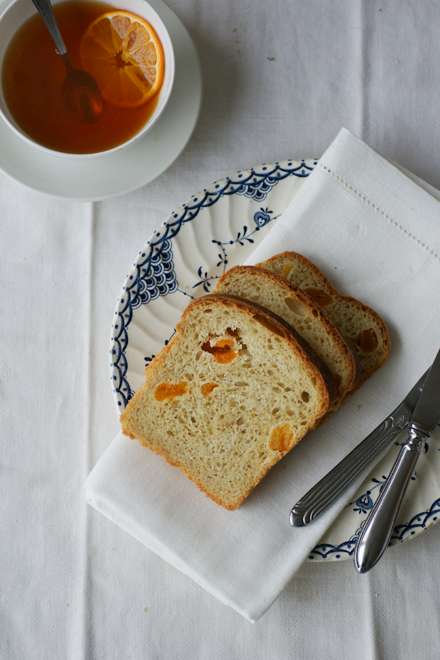 The recipe is a slight modification from
Glorian Ruoka ja Viini
3/2009 issue. It makes two or three big loaves.
Apricot bread
Day one
1 dl (1/2 c) water
about 2 g fresh yeast
1/2 tsp salt
2 dl (4/5 c) wheat flour
Day Two
5 dl (2 c) water
20 g fresh yeast
2 tbsp syrup
2 tsp salt
ground black- or white pepper to taste
about 12 dl (5 c) wheat flour*
100 g room temperature vegan butter
250-400 g dried soft apricots**
olive oil
*I used flours especially designed for yeast breads, they're not as white as usual wheat flours, but a little more whole-wheat
**Used soft dried apricots, moist and smooth but still dried fruit. If not available, use regular dried apricots; soak them in water overnight before using.
Day one
Dissolute yeast in cold water. Add salt and flour, knead until smooth (5 to 10 minutes). Cover the bowl with plastic wrap and let rest in the fridge overnight. Don't worry if the starter dough seems thick and stiff when you start mixing it with the actual dough, it'll be fine.
Day Two
Take the starter out the fridge about an hour before starting.
Mix the yeast in cool (a little cooler than body-temperature) water. Add syrup, salt and black or white pepper. Mix well. Add the starter dough and the flours. Knead the dough well for ten to fifteen minutes. Add the room temperature, soft vegan butter and knead until the dough is soft and pliable.
Chop the apricots into nice small morsels. Mix them up with some flours, and carefully add them to the dough. Place the dough into a large oiled bowl, cover with plastic wrap (I re-use fruit- and veggie bags) and let rise for about an hour, or until doubled in size. After 30 minutes or so of rising time gently punch the dough down.
Divide the dough into three parts on a floured surface. Form them into balls and let rest under a kitchen towel ten minutes. Meanwhile, brush three or two (each
roughly
1 1/2 liters) with olive oil. Pat the dough into triangular forms and lift into the tins. Sieve some flour on top and let them rise for an hour, until doubled in size.
Preheat oven into 250 Degrees Celsius (480 F). Put the breads in and spray water on the bottom of the oven. After five minutes, cut the temperature in 180 C (350 F) and bake for 50-70 minutes. Open the oven door once or twice during the baking. The breads are ready when they're golden brown on top and sound hollow when you knock the bottoms. Take the finished breads out of the tins and bake them for about five minutes to make the crumb crisp overall. Let cool on a griddle before eating.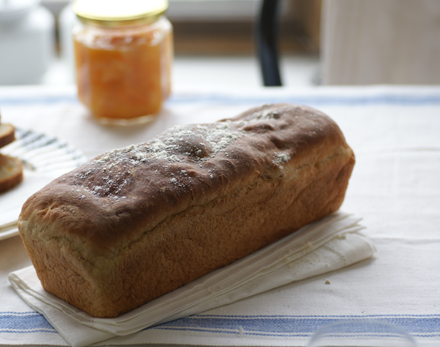 Clementine marmalade
This marmalade is del on toasted bread with margarine. It's best when the fruit is in season, but I prepared it in late February and it was just fine. If you buy a lot of clementines or other citrus fruit on Christmas, try making marmalade of the leftovers.
In Finland there's sugar with pectin (natural gelling agent) available, so use the sort if you can. If this sort is unavailable, just go with regular sugar.
The ratio of sugar and fruit is about 1 to 1 (1/2 to 1 for water). I made a smaller batch and used a little less sugar. I peeled some 500 g clementines, removed any white parts of the peel and chopped the fruit. Then I scratched off the white icky parts from a portion of the peel and cut it in thin stripes as the fruit were too soft to be grated before peeling. Some lemon or orange peel can be added to make marmalade more zestful.
Then I poured the peel, chopped fruit, sugar and water in to a kettle and boiled the mixture about 5-10 minutes, until it became jam-like. Any foam that appears on the top should be removed and discarded. I cut off the heat and let the marmalade cool for a while. I heated clean jars in the oven, and poured in the warm mixture. The marmalade should cool well before eating. Store the jars in the fridge and consume within couple of weeks.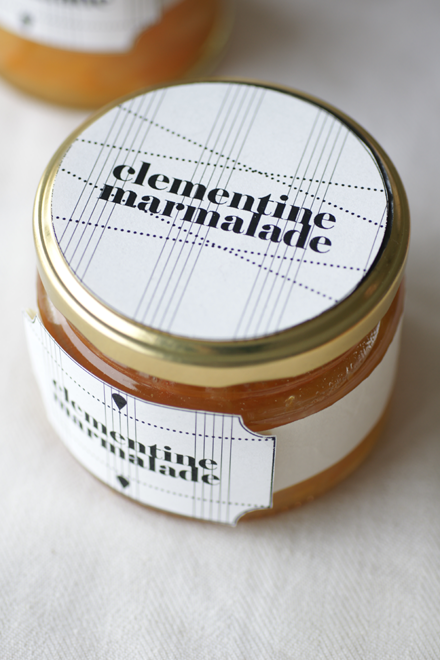 I printed the jar labels on note paper, which created nice random lines (the dotted lines are intended).