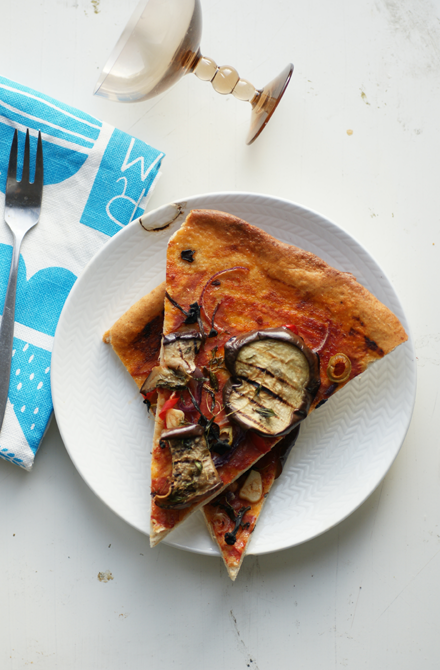 No kidding, this is the best pizza I've had. Home made, crisp, delicious, tasty, amazing. If you're looking for a cheese pie, this one isn't what you're after. I like my pizza thin and simple, with long simmered sweet and zesty tomato sauce, olives and vegetables.
The dough is simple enough to prepare, the most crucial part being kneading and rolling. The dough recipe here makes two thin pizza bases. The amount of yeast could be halved, if you decide to do so give the dough some extra time to leaven (about an hour of total leavening time should be enough).
Pizza dough
2 dl (3/4 cup) lukewarm water
25 g fresh yeast
1 tsp salt
a dash of sugar, syrup or honey (may be left out)
2 tbsp oil (olive oil is good)
4-5 dl (1 1/2-2 cup) flour
Pour the water into a quite large bowl. Add yeast, salt, sugar or other sweet stuff and couple of tablespoons flour. Whisk well until mixed and foamy. Gradually add the rest of the flour and oil. Mix first with a wooden spatula, then start kneading the dough with your hands. Knead the dough until it's smooth and flexible. About ten or fifteen minutes of kneading should be enough, but keep kneading until the dough forms a nice and even ball.
Move into a clean, slightly oiled bowl and cover up with linen towel or thin plastic bag (I like to use small fruit bags from the grocery store). Place the bowl in a nice and non-windy spot, like not in front of an open window or porch or something like that. A warm place makes the rising time shorter, but doughs leavened in a semi-cool place tend to develop more flavour. Anyway, let the dough rise until it's about doubled in size.
Push the dough down and gently knead it before rolling. I use a
pulikka
to roll the dough. (
Pulikka
is a lightweight rolling pin similar to french rolling pin, made of wood, plump in the middle and narrowing towards the handles. It's easier to handle than heavy marble pins, say, and quite handy too when I want to roll smaller pies and such.) Divide the dough in half and roll it out until it's as thin as you can get. To make things easier, roll it out on parchment paper and move on a baking tray. Roll out the second pizza base too.
Fill the pizza with your favourite toppings. Don't overfill, and don't cover the fillings with an inch thick carpet of cheese of any kind.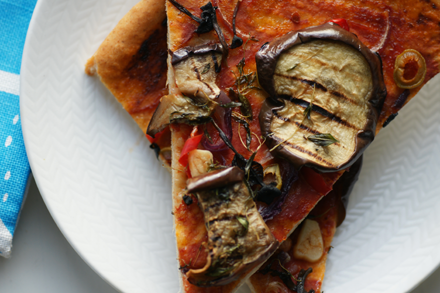 I love to use home made tomato sauce, but good quality ketchup is okay too. It tends to be more sweet than the sauce though, so keep this in mind if you're picking wine to go with your pizza. And you might want to add some stronger herbs like sage or thyme to balance the sweetness. I use a thinnish spread of tomato sauce or ketchup, then usually make a combo of some of the following:
*grilled aubergine, grilled zucchini
*beetroot or rutabaga slices
*green or kalamata olives
*fresh red onion rings and sliced garlic gloves
*sliced mushrooms (portobello, shiitake, chantarelle, funnel, black funnel)
*almonds (these soak the moisture from the tomato sauce and tender nicely, hazel nuts or cooked chestnuts would be great too)
*chick peas, soya beans, white beans, any tasty beans
In the spring, try lightly boiled asparagus, sugar snaps, haricot beans and new sweet carrots. In the fall, butternut squash mixed with wild mushrooms would be great!
Add a dash olive oil and bake in preheated oven in 200-225°C (400-450°F) until the base is crisp and toppings are nicely done. Add few thin shavings of
soya cheese
, drizzle of fruity olive oil, fresh basil (or lovage, thyme, marjoram, oregano, thyme...), salt flowers and black pepper, and munch away while it's hot and crisp.
Goes really well with cold cola, dry cider, or aromatic light white wine.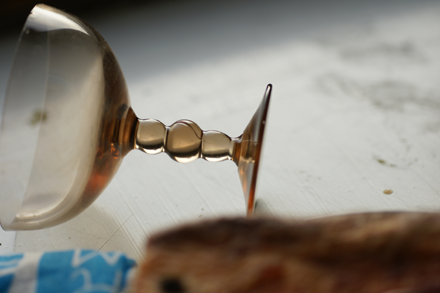 PS Have been on an unannounced hiatus, now trying to get back to this.