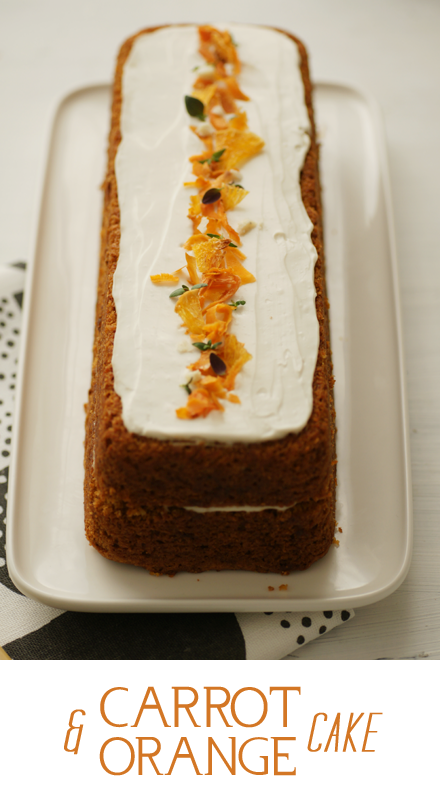 I was hanging at my friend's place Friday evening a week ago and watching TV (rare treat, we don't have television home). Gordon Ramsay's Kitchen Nightmares USA was rolling, and they had fab carrot cake at the otherwise lousy restaurant. My friend promptly expressed their deep longing for carrot cake, and who were I to refuse the challenge?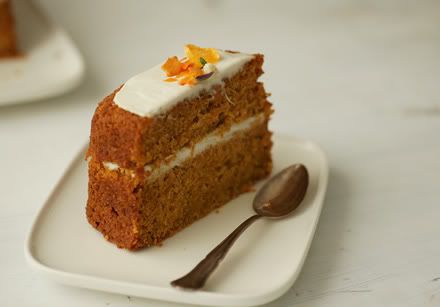 The recipe is mixed and matched from various sources:
Celia Brooks Brown
,
Chocochili
and our cook book library. I was a bit skeptical since you never know about cakes the first time you're baking, but this baby was absolutely wonderful. The texture was pleasant, the liqueur and orange peel added nice flavour and the frosting complimented the sweetness with a slightly sour touch. This is going to be favourite coffee cake here on!
Carrot and orange cake
1 orange
3 dl (1 1/4 c) grated carrot
very generous handful of almonds or 1 dl almond flour
1/2 dl (generous 3 tbsp) potato flour (starch)
4 dl (1 1/2 c) flour
1 1/2 tsp baking powder
1/2 tsp baking soda
dash of salt
3/4 dl (1/3 c) flower honey
2 dl (3/4 c) sugar
1 dl (1/2 c) olive oil
1 dl (1/2 c) soft room temperature veg margarine
2 tbsp orange-flavoured liqueur (Cointreau)
2 tbsp orange juice (from the orange or from a carton)
3/4 dl (1/3 c) soya milk
Preheat oven to 175 °C (350°F). Grease a round spring form pan (diameter about 25 cm/9 inch) or rectangular bread tin.
Wash and grate the carrots fine. Wash the orange and grate the peel. If using whole almonds ground them fine in a mixer. Mix together flours, salt, baking powder and soda.
In a separate bowl whisk together honey, sugar, oil and margarine. Add flour-mix through a sieve. Add Cointreau, orange juice and the milk. Mix quickly and thoroughly. Toss in orange peel and grated carrots, and mix once more. Add more flours or liquid if needed. The batter should be runny but not overly so. Pour batter into the tin and bake for one hour, or until a toothpick poked into the center comes out clean. Allow to cool in the tin, then run a knife around the edge of the cake to loosen and turn out. Let cool before cutting or frosting.
Frosting (for one layer plus topping)
one whole package (225 g) plain tofutti better than cream cheese
2 generous teaspoons honey
2 tbsp powdered sugar
Have your tofutti out of the fridge some 15 minutes before starting to soften it up, then just mix all ingredients in a bowl. Spread on cake with a palette knife.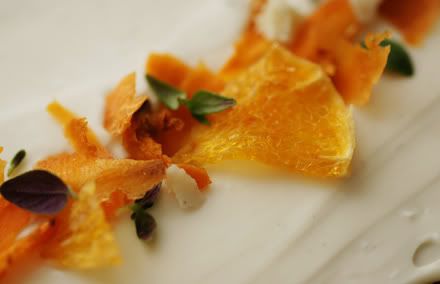 If you want to go fancy, cut the cake in layers and fill with frosting, or with carrot or orange jam. For simple service, spread frosting on and serve. The decoration in the photos is thin carrot peels dipped in sugar syrup and dried in the oven, similarly treated orange slices and fresh thyme leaves.