So, restaurant C at Tampere and other ramblings about the weekend trip I had with my mom! Our main motivation for traveling was to hear
Don Ross
perform at culture house Telakka. The gig was provided and organized by Tampere guitar festival, and it was totally awesome. Thank you Mr Ross for the
amazing music
and fine evening. In addition to guitar music, we visited design shops, art museums and dined at the wonderful
Restaurant C
.
The place of the Don Rossi event
Telakka
served great falafel salad! I wasn't expecting much since salads for vegans usually suck (you know, the usual: raw tomato slices, watery cucumber, boring dressings if any, no protein of any kind), but here oh here the falafels were crisp and roughly the size of a pool balls, salad leaves were graced by yummy dressing and it was simply awesomeness. I hadn't eaten much that night, but boy that salad left me nothing but hungry.
We stayed at Sokos Hotel Villa overnight. Interestingly, the building is a former spinning mill. The rooms had masonry walls (painted white and unpainted) which paired well with the modern and sleek flooring and furniture. Worth a visit. Of course, we also visited Vohvelikahvila for some veg waffles and coffee.
I had clipped off a newspaper article about Restaurant C roughly a year ago. The interior had looked real nice in the photos, and the cooking philosophy (ecological, ethical, organic, biodynamic, local, anyone?) sounded good too. C was chosen as a restaurant of the year in 2011, and my ex warmly recommended it so we made a table reservation for Saturday evening. There was a veg main course on the menu and I was really eager to experience the place.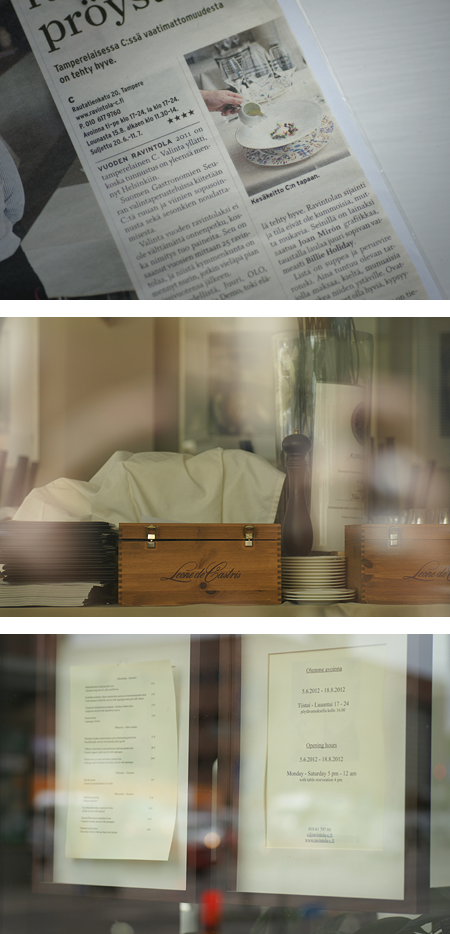 C is quite small, located near the railway station. The interior is light, tablecloths are cream coloured and chill music plays in pleasant volume in the background. We were first customers to arrive. Service was kind and natural straight from the start. We ordered almond soup as starters and eggplant and Jerusalem artichoke with asparagus as main course. Kitchen had kindly prepared vegan dessert for us, so we had a proper three course dinner. We drank dry Austrian white wine with savoury foods, the dessert was great as its own.
As I mentioned, the overall look of the interior is light and warm. Off white textiles looked great with warm oakish flooring, and by comparison made white plates look whiter still. The tableware was a nice mix of different brands and shapes: I'm Boo-pitcher by Muuto, March Newson water glasses and Klaus Haapaniemi Taika-plates by Iittala. Everything looked great together but wasn't too perfectly or strictly harmonized.
First, we had a small treat of asparagus, nettle oil, mild zesty and sweet tomato sauce and purple wood sorrel leaves. The starter soup arrived soon after bread, which was veg-friendly rye bread and white crusty bread brushed with olive oil and then fruit bread (with sour milk in it). Bread was accompanied by olive oil and balsamic vinegar older than me, for my mom butter served in small
Vitriini
-glass box. Almond soup and vegetable salad was foamy, nicely salty-sweet and balanced. It was served on black plate with roasted cauliflower. On arrival our waiter finished it with Spanish dry Fino sherry, great combo of flavours. It was decorated by wild chervil (or some similar plant) flowers, very pretty.
Then, red currant granita to cleanse our taste buds for main course. The dish consisted of a cake made of eggplant and Jerusalem artichoke on white and green asparagus, couscous coloured with beetroot, and deep fried nettle leaves plus fresh pansies for decor and added interesting aroma. All organic. The flavours went well together, but the taste of Jerusalem artichokes was maybe a tad too dominant.
Our dessert was dark chocolate ganache and pineapple sorbet. Decorated with sugar sheet pieces and pistachio crumble (probably, I'm not sure, the wine and food had made me tipsy happy at the time). Oh, before dessert we had a tiny pre-dessert; banana slices, sliced Karelian mint leaves, kaffir lime and pollen. It was sweet.
We left C smiling and happy! Great place to wine and dine with special friends, dates or anyone you want to treat real good.
Image sources of the product collage:
Taika plate
by Iittala
Marc Newson waterglass
by Iittala
I'm Boo pitcher
by Muuto
Nettle
illustration