Oh I've totally neglected food-blogging for a long while. Sorry about that. I've not been making anything interesting food-wise, thought.
Summer came as it always does. I visited Tampere this weekend with my mom, and we ate at restaurant C. More about the restaurant later (it was great!), now a quick post about wild herbs. C used deep dried nettle leaves, wild chervil flowers and pansies to garnish their dishes. I was inspired and decided finally to try wild herbs in cooking. Foraging and wild herbs have been bubbling under couple of years, and it seems it's finally hitting people big time. Maybe, probably it'll never be a megatrend, but it's great people are interested in the origins of their food and are finding new ways of purchasing greens and veggies locally. Maybe hunting of all kind will increase as this trend evolves.
I've always loved gathering mushrooms and berries. As a kid I've snatched a wood-sorrel leaf here and a dandelion petal there, but this was the first time I really foraged. So I started easy and picked some simple wasteland and forest herbs to garnish a strawberry, spring onion and chickpea salad.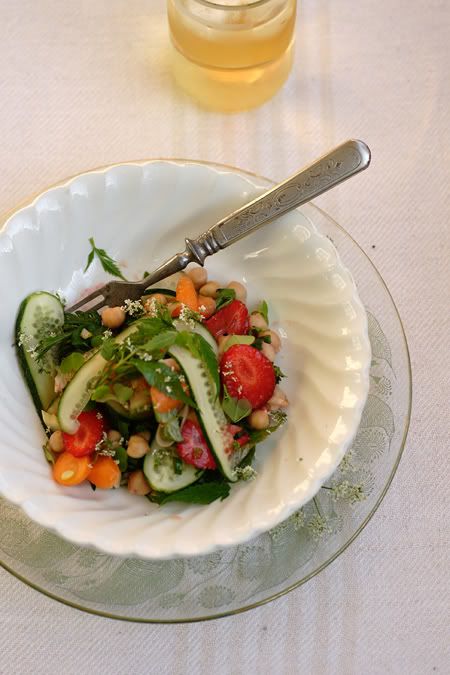 Chickpea, strawberry and wild herb salad
mustard, olive oil, fresh lemon juice, salt and pepper
canned chickpeas (or any beans you like)
a bush (~100 g) of lovage
2-3 spring onions
2-3 new small carrots
2-3 new small cucumbers
strawberries
some handfuls of wild herbs: dandelion leaves and petals, wild chervil flowers and leaves, goatweed leaves, woundwort (plantago major) leaves, wood sorrel leaves, yarrow leaves and flowers*
I'll not give exact measures. Salads are not about grams or teaspoons, but tasting and adding more of what's needed. I used a can of chickpeas (broad-beans would be great as well), one and a half spring onions sliced thinly, sliced strawberries, and two or three small new carrots and cucumbers, likewise sliced. New cucumbers and carrots are so cute, it's almost a pity to slice 'em. I mixed some mild mustard with fresh lemon juice in a bowl, mixed in some olive oil, salt and pepper, and tossed in shredded lovage leaves, cucumber, carrot and spring onion slices and chickpeas.
Ripe strawberries add a pinkish colour to other ingredients, so I added them to the finished salad with herb toppings. I rinsed and cleaned the wild herbs and mixed them in the salad base, and decorated the portions with wild chervil flowers and delicate herb leaves. Finish with a few drops of strawberry balsamic vinegar and additional salt and pepper. Munch away!
Ice cold extra dry apple cider goes really well with fresh tasty salads and white bread. The glass is by
Evolum
. Made from recycled bottles and decorated with abrasive blasting!
Another example of local foodism: my mom cultivates cherry tomatoes at the balcony.
*Always, always pick and eat only plants you know to be safe and edible! Don't forage near big highways, golf courses or any suspicious areas. In Finland, we're allowed to pick plants, berries and mushrooms from forests, meadows and wastelands thanks to
everyman's right
. Check the regulations of your own nation and always pledge permission from the landlord when needed.