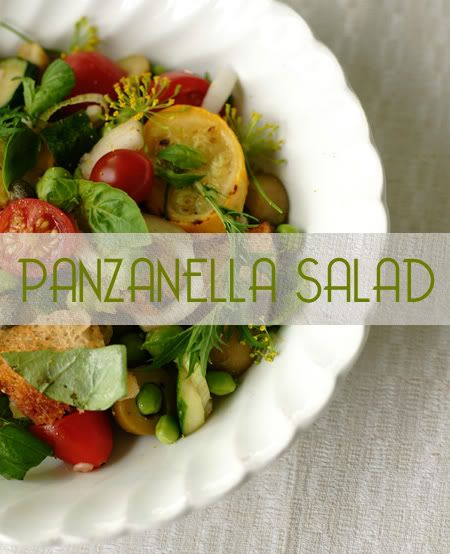 This salad is a great way to use leftover stale bread. Super when locally grown zucchinis and ripe tomatoes are available. I'll give some approximate measures, but just like salads usually this works with different measures and proportions.
(click to see larger photo)
Panzanella salad
Stale bread
Zucchinis, one to tree
Basil, herbs, mixed salads
Fresh peas or haricot beans
Ripe cherry tomatoes or bigger tomatoes
Few spring onions
Small capers, about two teaspoons (or more!)
For the dressing:
About 2 tbsp extra virgin olive oil
About 2 tbsp white or red balsamic vinegar
Muscovado sugar
Salt
Black pepper
Optionally, some chopped or crushed garlic if you're a fan
Slice the bread and zucchinis. Give them a light fry or grilling for some colour. Then cube the bread roughly. It doesn't have to look like crutons, bigger chunks work just fine. Half the cherry tomatoes, cube bigger ones and slice the onions. Either chop the capers or then just use 'em whole. Mix the ingredients of the dressing. Mix veggies and bread in a bowl, pour dressing on it and mix well. Let the bread soak up flavour about an hour or little less if you're too hungry to wait.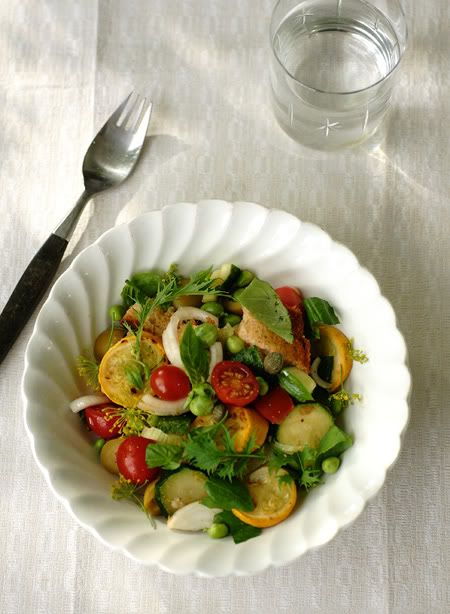 Now that summer is going away for a while, I'd try and use chickpeas instead of fresh peas, and red onion or leek instead of spring onions. And maybe winter squash or pumpkin instead of zucchinis...but then I guess it's an altogether different salad. I'll try a winter version soon and post photos+recipe if it turns out fine!