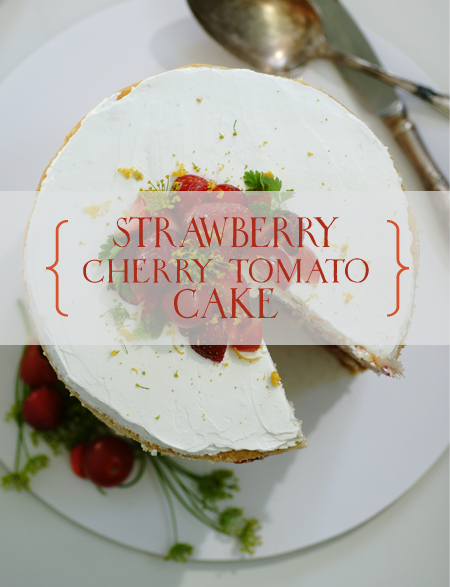 Time goes way too fast. Summer just started, and now it's pretty much gone again. September, hello. Clouds rolling in and all. Dandelion puffs in the air, cooling nights, the scent of rain and apples, fresh peas and salads, glimmering colours in the market place. Salad stems scent like water lilies, tomatoes like greenhouses and sunshine. All colours shine. I've lived it all, breathed it in. It's not gone, it's in memory and heart. Well. Devoured, enjoyed. Longed.
It's been somehow busy, even I've worked quite few hours. I moved in the beginning of July, and settling in took its time (as it always seems to do). There was the stress of finding a new apartment (we broke up with my partner), and obviously stress about living alone again, and all that jazz of breaking up.
Anyway, I'd decided to bake a strawberry cake. It was one of my must-dos this summer. Should be every summer, cos come on people strawberries in the winter. Eew. Summer+Berries=Love.
I don't have an oven in my new place, so baking will be even a rarer treat now on! Happily though my folks live nearby and I'm welcome to use theirs any time. So, strawberry cake. Simple. Pure, good. Some twists included.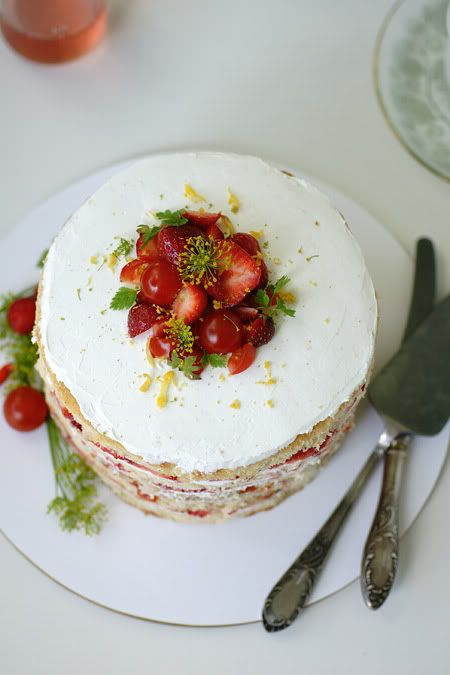 I made the cake base with
recipe
by Q (translated and used with permission, thanks hon). I was a tiny bit skeptical about the base. You know, you never know. But this time, oh yes. You know it's good when the dog gets a scrap bit for taste and keeps staring at you and the cake intensely for the following two hours. And long longing gazes afterwards, too.
The whole baking-a-cake-day was summery and happy. First I took wedding photo of my schoolmate and her groom. Both looked dashing, and the weather was warm, sunny, clear blue skies. After the photoshoot I headed for the Hakaniemi market place. Bought strawberries, cherry tomatoes, chantarelles, some spring onions too. Then over to my folks (biking around Helsinki+suburbs is an integral part of my daily life). Got more ingredients from the nearby supa market, and off with the baking.
Strawberry cherry tomato cake
Cake base:
200 g vegan butter/margarine
4 dl sugar
7 dl wheat flour
5 tsp baking powder
4 tsp vanilla sugar
3 dl natural soya yogurt
2-4 tbsp soya milk
some extra flour and butter for greasing and flouring the pan
For filling:
500 ml whippable soya cream (used Alpro Soya Airy & Creamy, use any brand and product that works for you)
Fresh sweet and amazing strawberries
Tomato marmalade (or some other jam or marmalade)
Cointreau/triple sec, soya milk or some juice for moistening
Heat the oven to 175 degrees Celsius (about 345 F). The original recipe suggest baking the cake in two pans for maximum fluffiness. I find that veg cakes seem to rise better if there's not too much batter in the pan. Dunno, maybe it's just a feeling. I used two spring-form pans, diameter about 20 cm. Grease and flour the pans, and be sure to let the cakes cool and set well before turning, so they don't get flat and sad.
Measure veg butter and sugar into a bowl. In a separate bowl carefully mix together flours, baking powder and vanilla sugar. Whip veg butter and sugar into light foam, then gently add flour-mixture and soya yogurt. It's best to add flours through a sieve to avoid clumps. Last add some soya milk if needed. Batter should be runny enough for you to smoothly spoon it into the pan. Pour batter into prepared pans and smooth the tops with a spoon or a spatula.
Bake 40-50 minutes, or until the tops are golden brown and a toothpick inserted into the middle comes out clean. Let cakes set in their pans for about thirty minutes. Make tomato marmalade while those munchkins cool.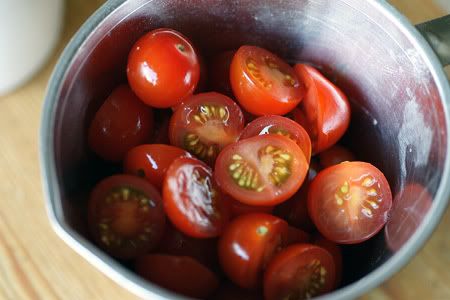 So while the cakes were done and waiting to get baked up and cooled down, I experimented with cherry tomatoes. I'd bought a fair bunch at the market place, and I figured I could turn some into tomato marmalade for an extra twist. Never done such thing in my life, but well how different could it be, from making say cherry jam? So I simmered tomatoes, sugar (plus vanilla sugar) and some water, keeping an eye on it. Water wasn't really necessary at all, the tomatoes are so full of liquid. I used them whole, seeds and all. They simmered merrily for about fifteen minutes, until it looked more like jam than a sauce, and then cooled and set. I used 5 dl cherry tomatoes, and about 2,5 dl sugar plus some extra vanilla sugar.
When marmalade is done and cooling attention comes back to the cake itself. Remove the pans. Slice the cakes to thinnishly, using a sharp knife with narrow serrated blade. I usually first sketch the cutting line, pressing softly all around the cake, and then gradually cut it all through, trying to keep the blade level. I cut the other cake in three layers, second in two.
Whip the cream, and slice strawberries.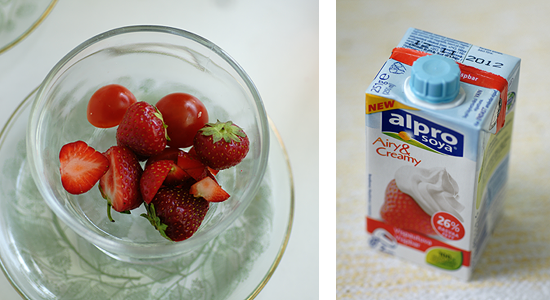 Start composing the cake. Gently pile the cake layers aside expect for the bottom one. I find it's best to put the cake together on a smooth simple plate. It's a bitch moving the cake around after it's all done, so place strips of parchment paper over the final serving plate before starting. Or compose the cake on a cutting board or some other board, and be prepared for heroic act of cake-transit after filling work, whatever rocks your boat. I've dropped and screwed up so many cakes it's not even funny, so trying to keep things simple and transits minimum is ideal for me.
ANYWAY, start by moistening the bottom layer of cake. Use any tasty liquid. Cointreau worked fine, with some soy milk to cut the booziness. Spread whipped cream on the layer, smooth with a spatula. Arrange strawberries on top, and add some cream on top of them too (not too much though). Repeat until you run out of layers. Moisture, whipped cream, strawberries, whipped cream. Optionally, for one or two layers, use tomato marmalade or other jam instead of strawberries. Or make more tomato marmalade and use it more.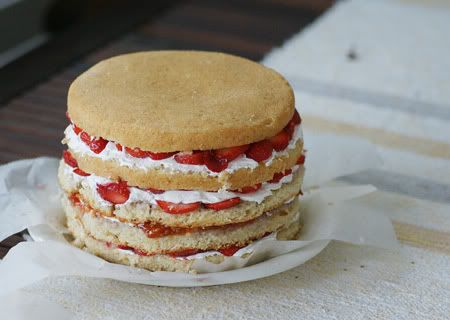 When it's done, either let it sit in the fridge overnight to set, or finish off right away. If needed, trim off the sides with a sharp knife. Spread whipped cream on top of the cake and smooth with a spatula or a palette knife. I liked the relaxed look of the sides not having cream all over them, but for more formal appear frost the whole cake. Use generous dollops of cream and smooth well.
Decorate for example with sliced and whole strawberries, sliced cherry tomatoes, eatable flowers and herbs. I used strawberries, tomatoes, dill flowers, chervil leaves and lemon peel. Home grown pesticide-free or organic roses are beautiful on cakes, same as sugared or natural pansies or nasturtiums. Another great way get eatable decorations is to peel big tomatoes, dip the peel in light sugar-syrup and dry them crisp in the oven. Looks cool and tastes loads better than commercial cake decorations.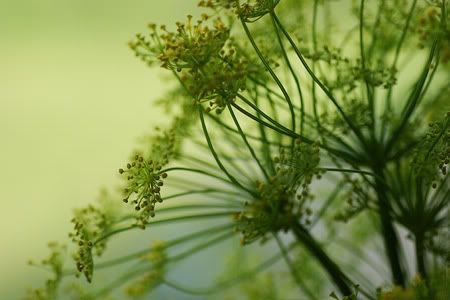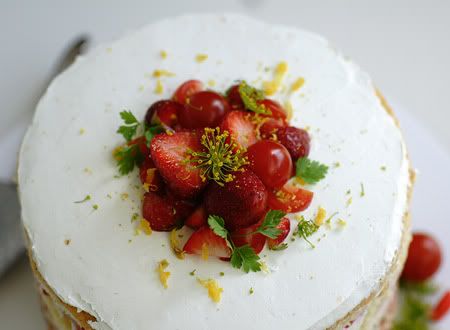 (click to see larger photo)
Eat with loved ones, preferably on a sunny and beautiful day. If it happens to rain, eat two slices instead of one. Enjoy. Share.