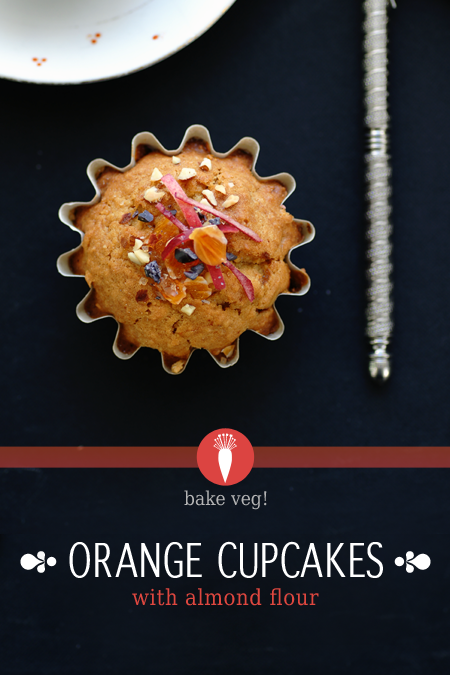 Cold air and frost make me want to bake all day. No oven, so no baking from the comfort and ease of home. Muffins. Yummy with whiskey cocoa. The recipe is a relaxed one too. Mix together dry ingredients, add liquids, stir and that's it. The most challenging part is grating and juicing the orange. And leaving some muffins untouched for photography.
The recipe is modified from a
Chocohili Orange cupcake
recipe! It's great. Here it's just a bit different. I added almond flour to the batter and increased the amount of orange juice. Almond flour adds taste and maybe some softness to the texture.
Technically, I think these are more on the muffin side of the cupcake-muffin-segment. But whatever, add frosting on top and whoo they're cupcakes.
Orange almond cupcakes
about 9 big ones
2,5 dl flour
1 dl almond flour
1 3/4 dl sugar (I used some muscovado and some powdered)
1 tsp baking powder
1/2 tsp baking soda
1,5-2 tsp vanilla sugar
grated peel of one orange
1,5 dl fresh orange juice (with pulp)
1 dl soya milk
1 dl melted veg butter or vegetable oil
For decoration: crushed almonds, candied orange peel etc.
Mix dry ingredients together carefully. Grate in orange peel. Add juice, milk and melted veg butter/vegetable oil. Mix quickly and thoroughly.
Pour into muffin/cupcake tin with paper muffin cups. I used these nice free-standing thicker and bigger cupcake-cups, for minimum fuzz. Don't fill the cups to brim, but generously about three fours of the cup is okay. Sprinkle on crushed almonds or muscovado sugar or maybe orange peel. Bake in 175 °C (about 350 F) for 10-20 minutes or until golden brown and baked, and/or when a toothpick poked in the middle of a cupcake comes out clean. Let cool, decorate, enjoy.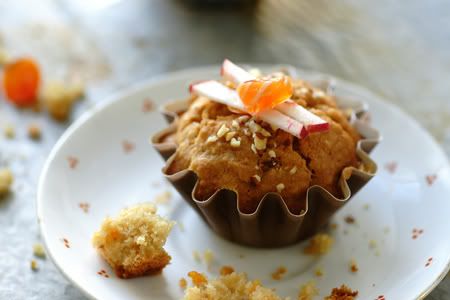 (click image for full view)