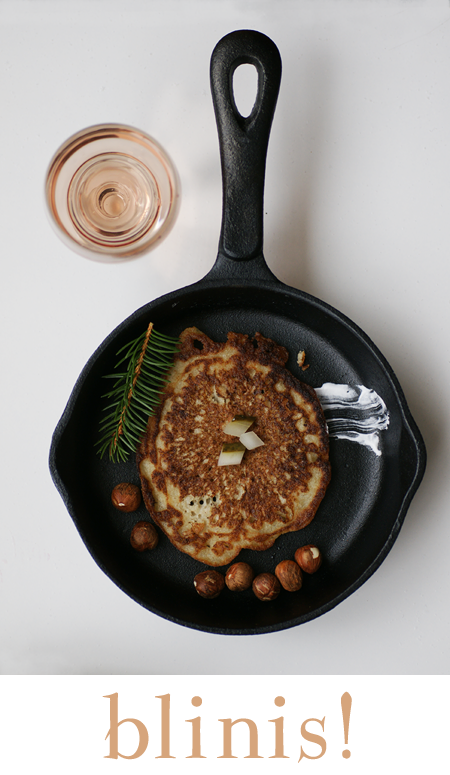 We made blinis the other day with my folks. I rarely use buckwheat in salads or as a side dish like couscous (should, though), but enjoy soba noodles - great in cold soups in the summer- and blinis in the heart of winter. They're sort of winter tradition for me.
It's real easy to make blinis vegan. I just replace the egg in traditional recipies with soya yogurt and use soya or oat milk, and fry 'em with some vegan margarine (Keiju is a personal favourite). There's also vegan 'caviar' available, Caviart. It's made of seaweed, so no sturgeon harm done. I like Caviart with rye bread and dill too, and it's handy for decorating sandwich cakes.
We had the blinis with self-made mushroom salad, pickled small cucumbers, sweetcorn, peas, finely chopped red and ordinary onions and the Caviart. Oh, and some lightly whipped soya yogurt too. Garlic sprouts or chives are great as well, or you could marinade beluga lentils or chickpeas or tofu to use as cold spreading.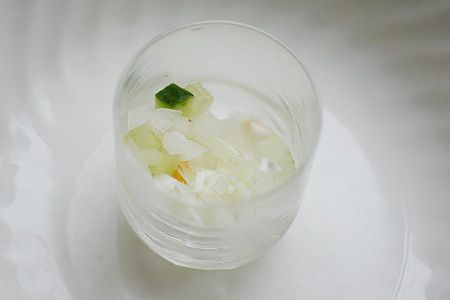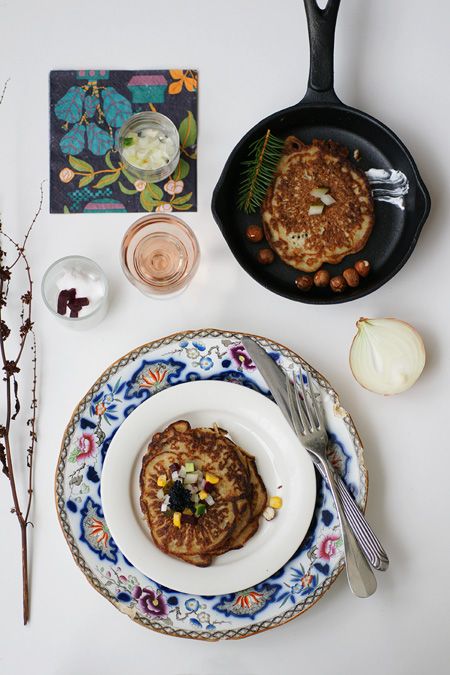 If you'd like to mimic smetana/thick sour cream I'd suggest mixing veg cream cheese with soya yogurt and lemon juice or white balsamic vinegar. I haven't tried this myself, so there might be a problem with the lemon curdling the yog, so you should try it out carefully before some big blini party. Or if available get some pre-processed veg sour cream.
Blinis
about 10
2,5 dl oat or soy milk
10 g fresh yeast
2 dl buckwheat flour
0,5 dl wheat flour
1 tsp syrup or sugar
3/4 tsp salt
1 tbsp oil
2 generous dollops or whipped soya cream (optional, may be left out)
additional soya milk
veg margarine for frying
Microwave the milk lukewarm and crumble in yeast. The milk shouldn't be hot, just room temperature. Too hot will kill the yeast, too cold and the batter will take much longer to leaven. Whisk in flours and suryp and let leaven in warm place covered with cloth or plastic, until the batter is about doubled in size. Add salt, oil and whipped soya cream. Add soya milk if the batter seems too thick.
I used traditional cast iron frying pan that has the diameter of about 15,5 cm (6 inches). I prefer smaller blini, so I fried them a little smaller than the pan was, but I've also used tiny four-pancake pan.
Warm a frying pan hot. The heat depends on the size and thickness of the blini, so adjust it accordingly. Thicker needs a little mellower warmth, thin and tiny gets cooked crisp on high heat. Add veg margarine to the pan with a generous hand. Cast iron pans might require more greasing than teflon coated ones. A simple rule: If the pancake sticks to the pan, add more margarine. Basicly baking blini is almost deep-frying the shit out of them.
Add a dollop of margarine to the pan, and give the pan a twirl to spread it out. Pour batter on the pan and cook until the pancake top starts to set, then flip it over using a spatula. Fry a little while longer, until it's golden crisp all over. You can add margarine after flipping the blini, if needed. Lift the blini to warmed plate or hand it over to someone anxiously waiting at the table. Fry the rest of the batter.
Blinis are best eaten straigh from the pan, so you might want to take turns to ensure everyone around gets both to try frying and eating fresh hot blinis. Another method is to fry all at once and keep them warm in a hot oven, which gives more space and freedom to actual eating and enjoying and vodka drinking and whatnot without the hassle of hot pans.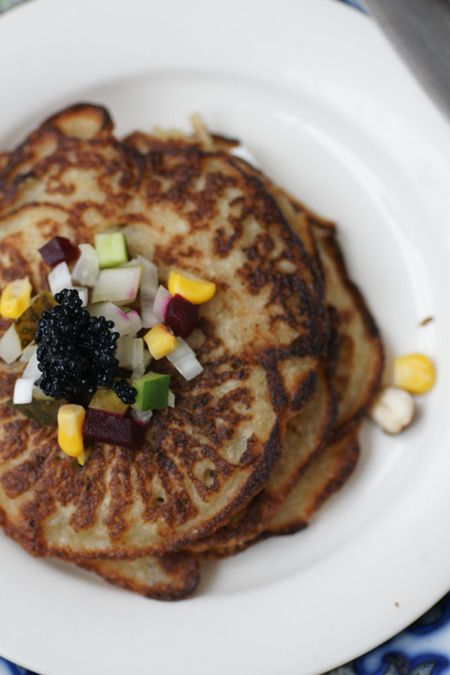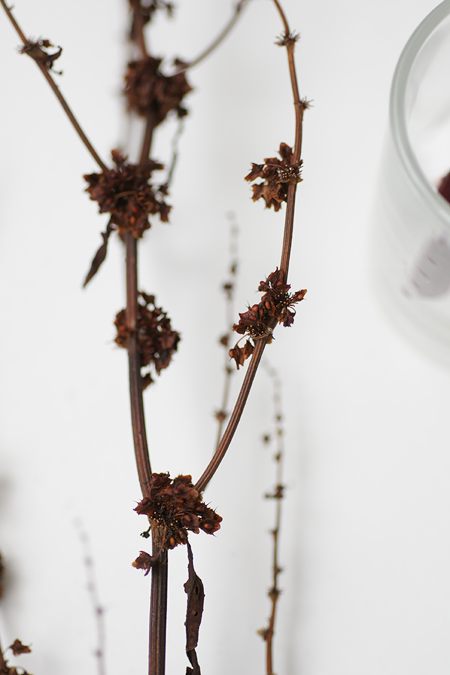 (This may look like a totally random plant skeleton, but it's actually related to the buckwheat plant, so hence relevant.)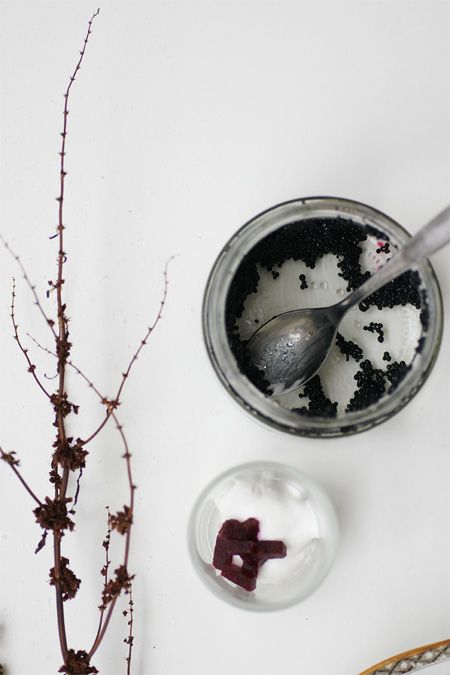 And oh hey wow,
Wikipedia
tells blinis were considered by Slavic people in pre-Christian times as a symbol of the sun, due their round form (maybe for their golden crisp colour too?). This is fitting. We just got over the Polar night for this season, and days are finally strehching a little longer. In the south of Finland we don't have the full darkness, but anyway nights have been long and days short. I'm starting to believe spring is getting here after all, slowly but getting here anyway.