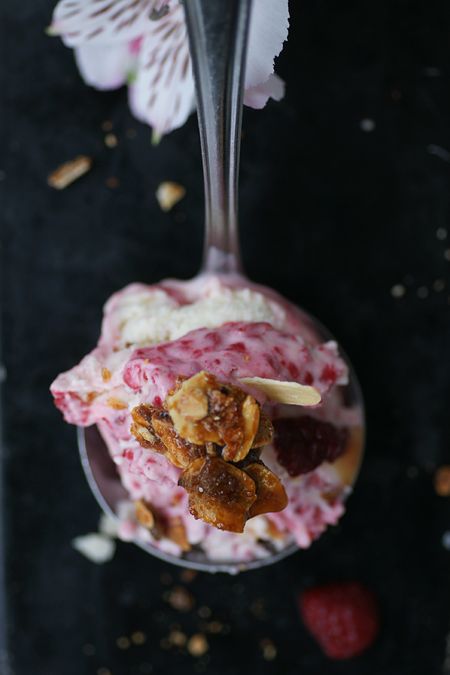 A bit different Runeberg's torte this year. Got a bit bored with the traditional pastries, so I mixed frozen raspberries with oat ice cream in a food processor. It's quite relaxed dessert, served with crisp almond slices and coffee.
(click image for full view)
Almonds are represented by toasted almond slices, caramelized with muscovado sugar. Use a dry pan to toast the slices until they have little colour on them, then sprinkle on sugar, mix a few times with spatula and turn of the heat when sugar melts and starts get caramelized. Add a dash of salt too, makes an interesting pairing with the overall sweetness.
Rum, well, it's a great sidekick with coffee (the traditional torte is made with almond flour, moistened with rum and served with raspberry jam on top).
Munching down rum dipped cakes baked with almond flour and topped with sugary raspberry jam kicks off the cake spree of the spring. In the digital newspapers, everlasting debate over the best eating techniques proceeds. With a fork, without one, munching in headlong or elegantly nibbling? Same thing with
laskiaispulla
(buns filled with jam/whipped cream/almond paste eaten on Shrove Tuesday). I'd much rather read comparisons of recipes and ingredients or even general sugar coated mumblings about the sheer wonderful taste of pastries, but oh well.
Wonder if laskiaiskakku (cardamon bun cake?) would work? Whipped soy cream with ground cardamon, almond flour in cake base, jam in filling. Or mini cakes, that'd be supercute. Or cake pops in laskiaispulla-style, oh boy.